Banksy, I think, is a modern day Willy Wonka esque kind of guy. Just when you think he's amazed you already, he opens a dystopian theme park called Dismaland. Based in Weston-Super-Mare, UK, inside an abandoned seaside swimming resort, Banksy has created his theme park to attract the masses with his modern take on the dismal side of life.
Hailed as 'The UK's most disappointing new visitor attraction' fans of Bansky far and wide have flocked down to the miserable attraction to get their two cents on this five week pop up exhibition which has seen the ticket site crash repeatedly due to impounding needs for tickets. I personally have not been to this marvel of an attraction, but after reading various reports, lets take a wide eyed view of what this visit could possibly entail.
First of all, we should read the brochure, just so we know what we can expect from this dismal day out.
' Are you looking for an alternative to the soulless sugar-coated banality of the average family day out? Or just somewhere cheaper. Then this is the place for you—a chaotic new world where you can escape from mindless escapism. Instead of a burger stall, we have a museum. In place of a gift shop we have a library, well, we have a gift shop as well.

Bring the whole family to come and enjoy the latest addition to our chronic leisure surplus—a bemusement park. A theme park who's big theme is: theme parks should have bigger themes…

This event contains adult themes, distressing imagery, extended use of strobe lighting, smoke effects and swearing. The following items are strictly prohibited: knives, spraycans, illegal drugs, and lawyers from the Walt Disney corporation.'
… Right, lets go in.
A derelict castle, a car crash princess & the grim reaper
When I envision Disneyland, I see the glossy castle belonging to one Cinderella, all plush and pink, adorned with sparkles and hopes and dreams. When I envision Dismaland, I see the exact opposite. The derelict, crumbling castle is somewhat of a barely there opening as a distorted Ariel sits on the murky lake. You can also visit a somewhat dead Cinderella, hanging from her carriage, as the paparazzi snap away at her dangling body (some have said this is a take on Diana, Princess of Wales, infamous death) and what better then to visit the Grim Reaper as he spins round on his bumper car, endlessly in circles as The Bee Gee's Stayin' Alive plays on repeat.
Lasagne on a Carousel, A toilet Shamu and a burning Jeffrey archer?
No theme park would be complete without a carousel, so why not a man sitting on boxes with 'Lasagne' on them to complete it. I have to add a plastic hanging horse hangs above him, so do you see where Banksy is going with this? It whizzes round whilst people sit dismally to the sound of no music, spinning and spinning till you're sure you have no idea what's going on.
Also is Seaworlds pet project, the infamous killer whale Shamu leaping from a toilet, through a hoop as a mannequin holds it high for the attraction to actually jump through the attraction. Do you think Banksy watched the eye opening documentary BlackFish and is telling a few home truths about captivity?
Lastly, burning Lord Jeffrey Archer? Have no fear, it's just his novels set alight on a fire pit. Of course it is.
What else can you expect?
A punch-and-judy show filled with the contents from Hackney Skips
Migrant filled remote controlled boats at The White Cliffs of Dover
A women attacked by a flock of seagulls
A 'pocket money loans' shop offering money to children at an interest rate of 5,000%
A giant sandcastle and 'play-pit' – something for the kids perhaps?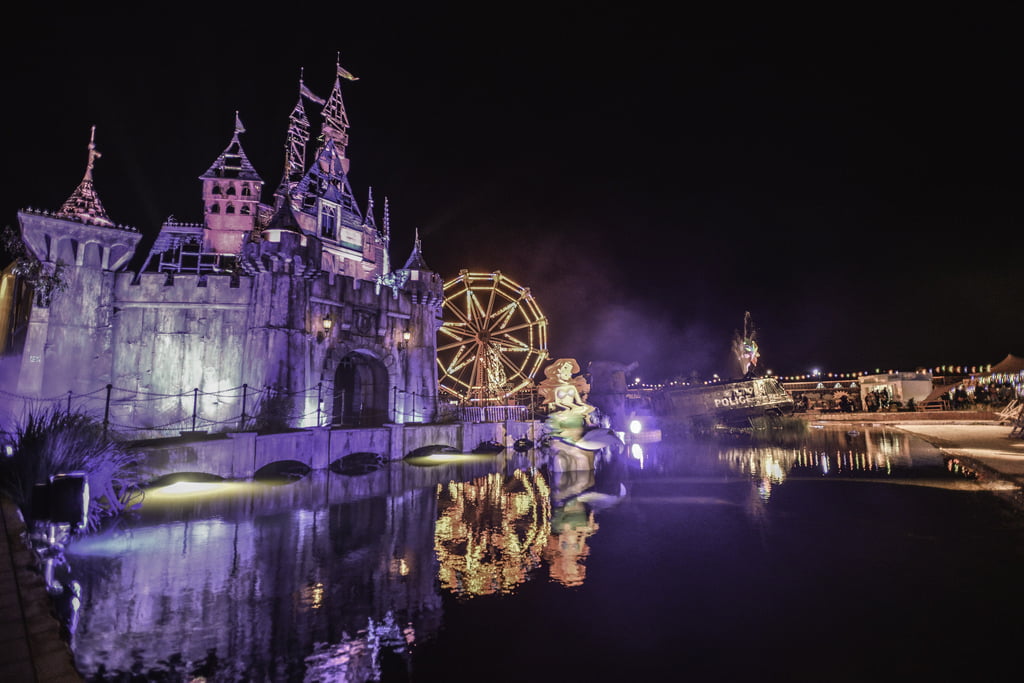 A few things you should know
If you require assistance getting about the park or want to know where an attraction is, don't ask the staff. With their mickey-esque ears firmly on their heads and their Hi-Viz jackets flashing, they simply won't crack a smile. They do however carry balloons! Though they have 'I am an imbecile' on them. Take it this way, the staff are very depressed – they are in Dismaland after all.
Though their is some humbleness to this attraction. Banksy has hand picked over 58 artists including Jenny Holzer and Damien Hirst to create his un-magical attraction. Remember I mentioned the punch-and-judy show, artist Julie Burchill has put a Jimmy Saville spin on it, so maybe just move onto the gift shop if it's a little raw for you.
Exit through the gift shop
Of course no theme park visit would be complete without a piece of merchandise to remember your trip, if everything you've just witnessed hasn't completely phased you at all. You can pick up programmes, a poster for your bare walls, a imbecile adorned balloon for a child or why not try your luck on one of those game stalls and win a fish finger inside a bag?
Don't however then go and flog on items on eBay for more than a car costs – Banksy would not approve.
Aura Beckhofer-Fialho on Flickr
So, are you going to visit?
Don't get me wrong, I love seeing something as whacky and zany as this once in a while, but is this art or is this just people flocking to a derelict swimming pool to see Banksy vent his feelings on his view of our world we're living in?
Take a look the trailer and then see for yourself what you think.
Wish there was a hyperloop to Dismaland :-/

— KATY PERRY (@katyperry) August 21, 2015
I wanna go to dismaland this is truly inspiring #banksy pic.twitter.com/huzl5lt6GH

— Josie (@idkIwt) August 29, 2015
Daytime entry is at 11am or 2pm (park closes at 6pm). Evening tickets at 7pm or 9pm (park closes at 11pm). Tickets on the door for daytime entry only are limited and priced at £3. Tickets can be bought in advance online for £5 including booking fee.