Have you heard? The print industry is 'dying'. This, however, has been exaggerated. A survey conducted by Deloitte showed that 88% of people still prefer reading articles on print than digital, despite the survey showing that over 2,276 UK consumers (aged 14 to 75) owned a smartphone, 35% still liked to subscribe to a form of print. Though this could be easily argued against and most would say that accessing magazines via digital media is far easier, there seems to be a lasting impression with magazines.
You could easily say magazine covers have come a long way; from 1967 when Rolling Stone published their first issue, a small image of John Lennon promoting his part in the black comedy film, How I Won the War, to Kim Kardashian now gracing the cover, clad in a sailors hat, while musician Sinead O'Connor calls for boycott over the cover.
Magazine covers can please, shock, impress and cause much debate when published. Due to how they look, what they are promoting or trying to sell, what gender/colour/race we can see and mostly, who is on the front of the cover.
These are my choices for what I consider to be iconic and somewhat debatable American magazine covers.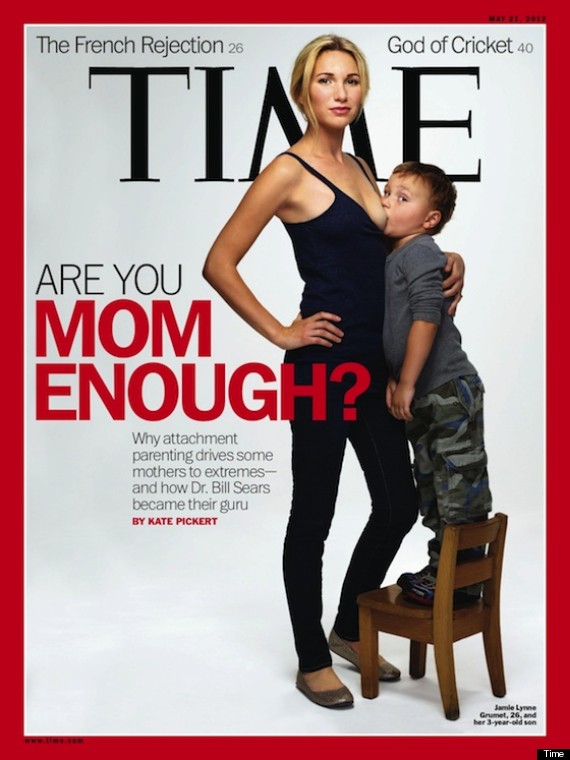 Are You Mom Enough? – TIME Magazine, 2012
When Time published an article about Attachment Parenting, Jamie Lynne Grummet (seen above) was an advocate and wanted to prove it, by posing with her 3 year old son. When photographer Martin Schoeller took the shot he explained his image; "When you think of breast-feeding, you think of mothers holding their children, which was impossible with some of these older kids," Schoeller says. "I liked the idea of having the kids standing up to underline the point that this was an uncommon situation."
Although praised for her confidence of projecting the image, featured Grummet was quickly mocked, being called a 'Milf' and was harassed with lewd comments. Other women also felt they were being criticized by the magazine, hitting back and explaining they were 'mom enough' and that Grummet didn't truly represent the real woman.
Yep, I'm Gay – TIME Magazine, 1997
Although loved and praised now in modern day Hollywood, Ellen Degeneres's 1997 cover could have quickly jeopardised her career. She was almost banished from the industry and didn't work for 3 years after the cover was published. To come out as gay wasn't just brave, it was unprecedented, especially as Degeneres was earning a living as a sitcom star. When her sitcom was cancelled, she soon turned heads and opinions when she brought The Ellen De Gegeneres Show into people's homes.
Fast forward to now, Degeneres is praised for coming out way back when. Since her acclaimed talk show went on air, she has hosted the Emmys, the Oscars and has won a host of awards for her work.
Boston, In Photos/and Words – Sports Illustrated, 2013
Just a few hours before Sports Illustrated closing deadline, the Boston marathon bombing occurred. Editors soon scrambled about to try and fit as much information as possible into the magazine, stories that could detail the fresh events. A few seconds after the blast, runner Bill Ifrig was knocked to the ground as the police rushed around him to help as well as control the situation.
Managing editor, Chris Stone said; "We chose to run the cover photo because we felt it truly captured the horrific moment at the end of the race." He added, "There's a fallen runner, police with their guns drawn and loose debris from the explosion."
John & Yoko – Rolling Stone Magazine, 1981
"This is it," John Lennon told photographer Annie Liebovitz, "This is our relationship." Named the highest rated cover since 1965, John and his wife, Yoko were photographed in their apartment by legendary photographer Annie Leibovitz. Although Leibovitz originally just wanted John to be in the shot, he insisted that his wife also be featured.
A few hours later after the cover was shot, Lennon was shot and killed by Mark Chapman. The issue was put on sale a couple of months later and remains one of the highest selling issues. While the famous Rolling Stone image is sometimes called the final photograph of Lennon, it is in fact only the final portrait of him and Yoko together.
Katiti Kironde – Glamour, 1968
When Glamour magazine ran a competition to find the top 10 college women, Katiti Kironde was found and named the cover winner. It was a first for Glamour and every other magazine, as Kironde was the first black woman to be on the cover of a major woman's magazine. Glamour's executive editor Wendy Naugle commented, "Before the issue hit stands, there were some fears this could hurt sales. But more than 2 million copies were sold – making it the best-selling cover in the then 29 year history of the magazine."
The cover did however received some backlash, with letters filing in with readers distaste for the cover. However the positives outweighed the negatives and Glamour was praised with women commenting how much they loved the cover and how they were grateful for it being published.
"Oh my god – we hit a little girl." – Esquire, 1966
In early 1966, America had little numbers of troops in Vietnam, legendary writer John Sacks became Esquire's war correspondent in Vietnam. Sacks helped change public perception of the Vietnam War and was a landmark in the history of New Journalism. The cover and the main feature spoke about the soldiers of M Company. Among all of that insanity of real, live war, one soldier threw a grenade into a hut that killed a seven-year-old Vietnamese girl.
It was a combination of direction and literary journalism that brought the horror and the humanity of the war home. With 33,000 words, the cover is still the longest ever article published in Esquire.
More Demi Moore – Vanity Fair, 1991
As far as magazine shocks go, heavily pregnant Demi Moore soon became the talk of the town, when photographed by Annie Leibovitz. At the height of her career, Moore was photographed in nothing but a diamond ring she was wearing. When the issue went to the stands, approximately 100 million people saw the cover. Vanity Fair received immediate backlash for their portrayal of a 'pregnant sex symbol' but Moore did not see why there was so much criticism, commenting "I did feel glamorous, beautiful and more free about my body. I don't know how much more family oriented I could possibly have gotten."
Since it was published, the cover has had lasting societal impact, encouraging more celebrities to pose in similar photographs, displaying their bodies.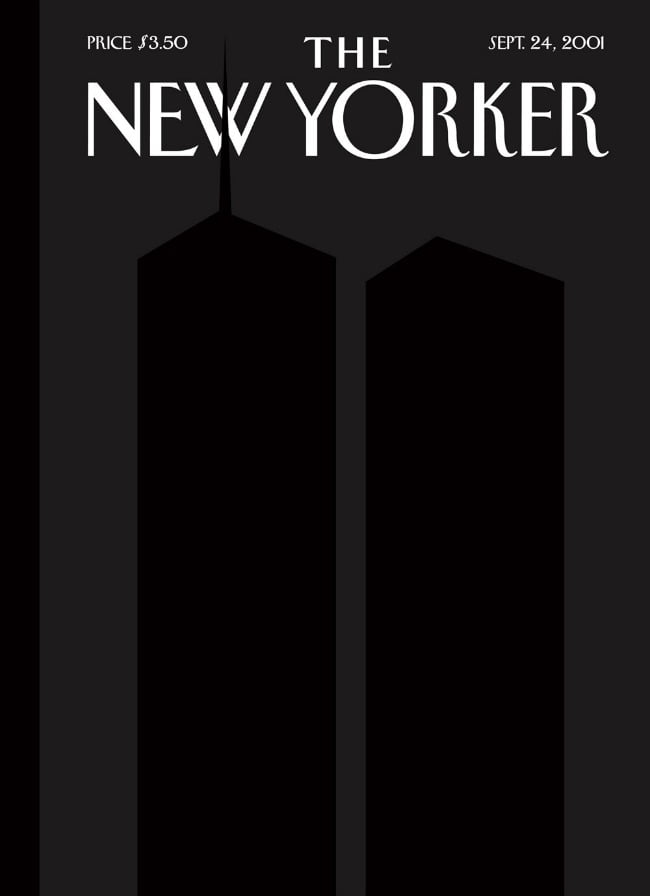 The Twin Towers – The New Yorker, 2001
September 11th, 2001. The days that followed were filled with fear, sadness and uncertainty, and of course, it took a long time for America to recover from it. The cover was a collaboration between cartoonist Art Spiegelman and his wife Francoise Mouly and was hailed as not just iconic, but most famous covers of all time. The cover was inspired by Ad Reinhardt's black-on-black paintings, so that the north tower's antenna breaks the "W" of the magazine's logo. Spiegelman wanted to see the emptiness, and find the awful/awe-filled image of all that disappeared the on 9/11.
Mouly wrote in honor of the 10th anniversary of the attacks that the cover "conveyed something about the unbearable loss of life, the sudden absence in our skyline, the abrupt tear in the fabric of reality."
Afghan Girl – National Geographic, 1985
When Steve McCurry took the image of a young girl one morning in Pakistan, he didn't know the lasting effect the girls green eyes would have on everybody that saw the cover. The girl was named as 12 year old refugee Sharbat Gula, who had seen Soviet helicopters destroy her village and family, forcing her to make a two-week trek out of the perilous mountains of Afghanistan.
The cover was such a success that the girls untouched image was has been used on rugs and tattoos, making it one of the most widely reproduced photos in the world.
Call me Caitlyn – Vanity Fair, 2015
When Bruce Jenner sat down with TV Anchor Diane Sawyer, he finally confirmed to the world the secret he had been keeping for over 60 years, he identified as a woman. Always surrounded by the media, Jenner was a part of Keeping Up With The Kardashians, which remains as one of the most popular shows in America. However when he decided now was the time to transition and become who he really wanted to be, he enlisted the help of Annie Leibovitz, who helped show who Jenner really was.
The cover showed Jenner announcing herself as Caitlyn, the person she had always wanted to be. The cover spread around the world and Jenner was praised for her courage for finally speaking out about who she wanted to be and how she wanted to live her life. She was awarded with the Arthur Ashe award for Courage in July and thanked her fans, friends and family for their support.
As you can see magazine covers have been getting attention as far back as we can remember. The amazing thing about magazines is that there will always be an opinion and a debate as to whether it is a good or bad cover. I don't think the print industry is dying at all, at the end of the day we all have something to say and most of the time its influenced by whats printed in front of us.