With the warm weather and sunshine of last week came the announcement that American deli Delancey & co.
With the warm weather and sunshine of last week came the announcement that American deli Delancey & co. will be opening in London in the Autumn, boasting classic salt beef sandwiches and smoked salmon, a la the New York delis of the Lower East Side.
Owner and developer, Daniel Moosah, claims he wants to bring clean, good quality American food to the UK, and move away from all the 'dirty' dishes we've been hit with lately.
It is true that London has been taken over lately by a love for American style food, but the kind of grub we've been enjoying lately has been heavy, greasy and not so good for us.
Places like The Diner in Soho are rootin' tootin' good, but offer up hot dogs, chilli cheese fries and loaded waffles that leave you feeling full for days. But America has such an amazing food scene, and burgers and dogs can be sorely misleading.
Here's a round up of some American every-day eats and must-try meals:
Souper Salad
We all know that the American stereotype is large and lardy, but one thing that will surprise you is that, in America, we eat a lot of salad.
One thing the UK sorely lacks is the existence of salad bars like Souper Salad and Sweet Tomatoes.
In the US, these lunchy places are amazing buffet style restaurants, where you can grab a tray and load up with tasters of salad, pastas and grilled meats.
The extensive salad menu is mind boggling, but because you've had a healthy meal, the brownie bar at the end of it can be enjoyed guilt-free.
Fusion food
America is a big country. No, seriously guys, it's full of people from hundreds of different countries around the world, and they've all brought their own style of food with them.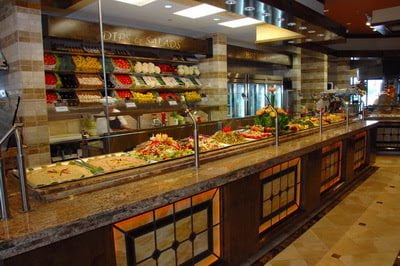 Too often, people forget that the USA has the biggest and best food scene of any country in the world, so if you're visiting, try as many different cuisines as possible.
Greek and Lebanese food is huge in the States, because it's fresh, light and quick. My favourite spot is Fadi's in Houston, Texas, where you can grab some pitta bread, homemade hummus, loads of fresh salad and fish as well as a made-to-order mango smoothie for under $15 (roughly £8).
Mexican is another big influence on the American food scene, but here we get too sucked in to the idea of nachos that are loaded with cheese. Proper Mexican restaurants serve a lot of freshly grilled meats, with rice and salad, and bring the tortillas, cheese and cream on the side. Chilango in Islington do great value burritos with plenty of fresh fillings, and doesn't stuff you with fatty toppings.
Love Meat
BBQ is a classic American thing, but seems to have been turned into an excuse to gorge yourself silly here in the UK.
American style BBQ restaurants boast all-you-can-eat, whereas in the US great BBQ is seen as a genuine skill and a thing of art to appreciate.
Essentially, great BBQ meat is just good quality meat and a wonderful rub, rather than mounds of ribs with fries and forty unlimited refills of side dishes.
Take the time to enjoy a really good piece of meat with something simple, like a potato salad, instead of having everything fried on the side.
Meatloaf is another classic homely dish that not enough people are aware of, or willing to try themselves. Next step London – open up somewhere that exclusively does meatloaf sandwiches. Perfection.
Home cooked goodness
People might think that the English are best known for proper, home cooked comfort food – sausages and mash, steak and kidney pie.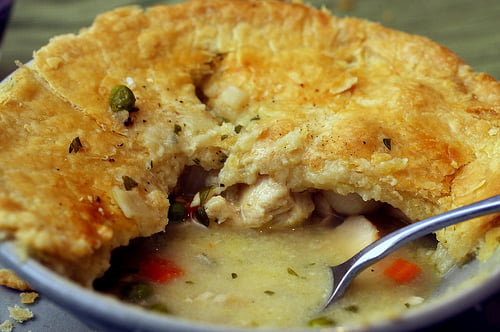 But don't forget that parts of the US are pretty darn cold too, and need some warming up with stews and pies.
Even in the South, one pot cooking is a big thing. Chicken pot pie the American way is a go-to comfort meal, no heavy pastry case but just as satisfying. Good diners will serve it with green beans – yes, a green vegetable – and some bread for dunking.
In the South, you've got to make room for gumbo, a hearty, spicy seafood stew, guaranteed to clear you out and keep you satisfied. The best bit is, everywhere has their own family recipe, so it'll taste different every time.
Something sweet
American desserts aren't praised enough. Just because it's not French patisserie doesn't mean it's not well worth it. Forget ice cream sundaes – anywhere and everywhere can do those.
Classic American desserts are the kind of pies that take skill to make, like a fresh key lime made with fluffy, mile high meringue. Fruit cobbler? Well, that's crumble but with less – I repeat – LESS butter and sugar and a thicker, more biscuity top.
And if you're having a really bad day, a graham cracker, marshmallow, square of chocolate and a lighter can make all your problems go away.
So, put down that burger and plate of fries and focus on some of the less well known but much, much better American dishes that are out there. Hopefully Delancey & co. can boost the proper American food take over, by offering up Reubens sandwiches and fresh food, leaving those plastic hot dogs far behind.
What do you think? What has your experience been with this food? Have your say in the comments section below.