Are you an advocate of the good old canned staple yet sometimes stuck for ideas as what to make with them? I'm not talking about those pesky, fiddly, paper fasteners, but tinned foods — which an array of are now preserved. This genius innovation arrived in the early 1800s thanks to these three wise men: French inventor Nicolas Appert whose food 'jarring' preservation soon caught on in the UK and became the underpinning of 'canning' by another French inventor Philippe Girard who patented the method.
Then a Brit inventor and business person — Bryan Donkin — bought Girard's patent and modified it for mass production. He then took a gamble on a man called, um, Gamble to partner his business with. Together they had beef — canned firstly; previously preserved with an overkill of salt. Unfortunately, there is little to honour Donkin in our history books considering canned foods became the saviour of many sailors on long voyages, whom faced malnourishment after severe diseases.
Survival food
It's the ultimate in bunker food and when Suzi Quatro sang Can the Can — although she was not referring to tinned food, the song title was metaphorical for "something that is pretty impossible", as is sometimes opening canned edibles. Ring pulls are not always on tins nor reliable. Just the other day I was attempting to open a can of coconut milk — sans ring pull, and my opener — blunt, resulted in a very jagged result and potential accident in-the-making of my Thai curry. It gave me the heebie-jeebies because when I was 16, I sliced through my right thumb down to the knuckle when unveiling a can of tomato soup. EEK! Amazingly, it did not put me off tomato soup, which at 17 became a staple snack poured over packet mashed potato.
I like to think my palate has become somewhat more sophisticated since. I cook a helluva of a lot nowadays, but if I can sometimes shave corners that saves me peeling, coring, de-seeding, slicing etcetera instead… Plus a can of sut-tin' is a sometimes cheaper than the freshest option and can be versatile, so… I'm about give some delicious and simple recipe ideas and tips that can put some zing into some of your cylindrical, cupboard crammers that could be right up your tin-can alley!
Firstly, some peachy words
These were a regular dessert in my household as a child in the 70s and 80s — served with tinned evaporated milk (yuk) or if lucky, proper cream (mmm). Then, I often heard the term 'cling peaches' being thrown around which has thus prompted me to ask, where does that come from? Apparently it's to do with variety. You've got your freestone and your clingstone. I'm now tempted to yell yabbadabbadoo! The latter infers to the flesh clinging more to the pit (stone) and hence less of a joy to dissect. They are typically smaller than freestone but are also typically juicier and sweeter and an ideal can-di-date for tinning.
The other weekend I had family over for dinner and wanted to make some prosecco Bellinis so I whizzed a can of peach slices in syrup (which negates the need to add sugar syrup) until smooth and frothy, strained the liquid through a sieve and voila, I had my peach nectar for the mere price of 65p, which I stored in a jam jar in the fridge. I simply poured some into the bottom of the glasses, topped with chilled prosecco and added a few frozen raspberries to make an attractive aperitif to go with canapés.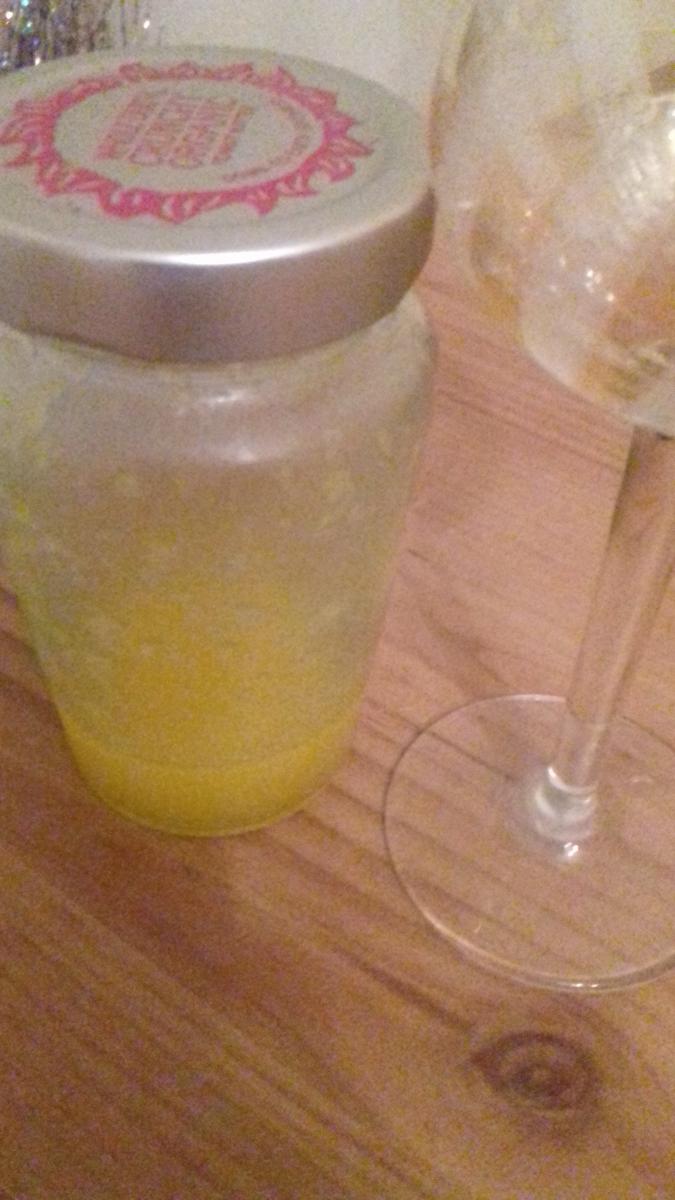 Another thing I once made with tinned peach halves was a cobbler. This is a baked dessert that has the fruit on the bottom (of a baking dish) and then you simply splodge on dollops of a scone-like mixture of flour, butter, salt and sugar and when baked it spreads out to give a cobbled effect. You can add nuts and spices to the mix. I added some orange zest and ginger to the peaches and sprinkled my cobbles with cinnamon sugar pre baking. It gives a lovely crispy top and then when you dig into the hot, syrupy peaches, it's divine — especially served with a good vanilla ice cream. You can Google peach cobbler for lots of variations on the recipe and tweak to your taste.
Paired with Puff
Another baked dessert favourite of mine that I made more recently is tarte tatin. It's so quick and easy I made a pear and blueberry one for my friend — after we had dinner, and within half an hour we were tucking in with lashings of cream. I used the following:
Pack of ready-rolled puff pastry
Tins of pear halves
A cup of frozen blueberries
Cinnamon sugar
Knob of butter
I preheated the oven to said temp on pastry packet. On my hob in a large ovenproof frying pan I melted the butter, added tinned pears (strained), chucked in the blueberries and generously sprinkled cinnamon sugar and stirred it in. The sugar I had premade by simply mixing caster sugar and cinnamon powder. It will store in a jar for yonks and I think cinnamon really complements pears. The pears turned a lovely deep purple from the blueberries and the fruit only needed 5 or so minutes to get it bubbling and syrupy (you can add extra juice from the can if desired or molasses sugar if preferred). Aim for a nice sticky consistency so the pastry won't have a soggy bottom. I then turned off the hob and covered the pan with the puff pastry — trimming any overhang so it fit neatly and then tucked it around the pan so the fruit was nicely encased beneath. All you do next is transfer the pan to the oven and wait for the top to puff; about 10-15 mins. Once golden and crisp, loosen the pastry by running a knife around the edge and then tip out onto a large plate. You should get a lovely caramelised fruit topping, and can use any tinned fruit. I've also done an apricot tarte tatin and one with tinned pineapple that I mixed with a touch of coconut milk.
*Top Tip* you could try a savoury version with tinned ratatouille mixed with mozzarella or tinned chilli beans topped afterwards with grated cheddar and sour cream or guacamole.
Tom-ay-toes/tom-ar-toes
Tinned toms are a firm favourite for me now, especially as they are more flavoursome than the fresh ones I buy here in London (unlike the sumptuous ones I had in Italy) and the juice can be strained off and used in a Bloody Mary. Also, I find there is no added sugar and salt like in baked beans, so a far healthier option. The Spanish traditionally have chopped tomatoes on bread or toast for breakfast, which I had every morning when in Madrid last May. It's a super easy, healthy snack to whip up and you can spice up your chopped tinned toms with chilli and herbs. I like to warm them through and spoon over slices of lightly toasted baguette with a drizzle of olive oil and sprinkling of sea salt. In much the same way, by lightly toasting smaller slices of baguette you can make Italian bruschetta with tweaked chopped tinned tomatoes, or blitz some tinned olives with olive oil, garlic, lemon, chilli, whatever you like to make a simple tapenade.
Toot your Corn
Here are a few ideas for your noble niblets. If you've ever made falafel (ground chickpeas and spices) from a packet mix, why not add some tinned corn for a bit more bite to your fritters? Simply add to once the dry mix has been hydrated and then make little balls or patties and deep or shallow fry. I have also made creamed corn; a nice side dish and an excellent base for chowder. To make the creamy corn, melt butter in a saucepan, add the tinned kernels (drained), season with salt and pepper and mix in some cream. Then whisk some flour (plain or corn flour) with milk and stir that into the corn mixture on a medium heat. Stir in parmesan if desired. If making a chowder you can add some diced pepper and stock (either vegetable or fish stock). I usually make a haddock chowder by poaching smoked haddock in milk with a bay leaf and seasoning and add the milky stock to the creamed corn and the flakes of soft poached fish — checking there are no bones, and sometimes add some fresh chilli.
Pumpkin Triumphs
I love pumpkin but hate preparing it from fresh; so messy and laborious. Luckily, this year I purchased some tinned pureed pumpkin that sat in my cupboard for months until recently. The versatility of turning it into something sweet or savoury has many possibilities, and I will, from now on use tinned if I can get it. For the sweet option I made some marbled chocolate and spiced pumpkin brownies using this recipe: http://www.laurafuentes.com/pumpkin-swirl-brownies-recipe/ and with my other tin, made pumpkin soup in literally ten minutes! It tasted as good as the soups I'd made before that took heaps longer with plenty of mess to clean, unlike this time around.
Empty tinned pureed pumpkin into a saucepan and gently heat (as it does splatter)
Add some finely-chopped or grated garlic
Fresh chilli, but I opted for a dash of hot pepper sauce for quickness
Some fresh thyme leaves, salt and pepper
Add vegetable stock — amount depending on how thick or thin you want your soup to be. I'd say make up around 500mls as a guide and add gradually
Stir in either some cream or crème fraiche. I used half-fat crème fresh
Serve with some strong, grated cheddar and chunky, olive-oil, salted croutons
I have also made a Thai-tasting version of pumpkin soup with tinned coconut milk, green chillies and lemongrass — equally delicious, so if you can get tinned pumpkin — stockpile it. I got mine from Waitrose on a deal. Talking of soup, here's another *Top Tip*. I have made some soup-a pasta sauces on the quick with a can of tomato soup and some mascarpone, or creamy asparagus with some lemon and fish or chicken if desired. Tinned chicken soup can be added to any chicken leftovers from a roast with the veggies to make a pie filling too. In my house, it's all about having no waste and lots of imagination! Lastly, I would like to take you to…
The dark side of the prune
If chocolaty desserts are your bag and you've not wholly committed to the pitted prune, try combining the two for a truly sinful scrumptious sweet — be it a mousse or a cake. I made a cake using dark chocolate and tinned prunes that I'd soaked in some brandy. Into the cake mix went that lovely, thick, prune syrup. Dare I say the M-word, but the cake was — very — and the balance of bitter chocolate and alcohol (optional) pitted against the sweetness of the prunes (that I find too sweet on their own) was perfect. Again, check out the net for recipes on that combo.
I hope you like the ideas I've shared and that they'll come in handy for the cans in your cupboard. Oh, and don't forget to recycle them, or else make pen or flower pots — if you've no jagged edges.