She has been dubbed the 'Mother of Feminism' and has been fighting for women's rights issues since the early 50's. She has help founded Ms Magazine and covered topics such as gender bias in language, sexual harassment, feminist protest of pornography, and political candidates' stances on women's issues. Co-founding the NWPC (National Women's Political Caucus) in 1971, Gloria was and still is a force to be reckoned with, who simply tells it like it is and as she puts it 'I can say whatever it is that I feel.'
Gloria Steinem – Mother of Feminsm
Born in 1934 in Ohio, Gloria was born to parents who divorced early in her childhood, her father an antique dealer and her mother, a journalist, who later in life suffered a severe nervous breakdown. Steinem later said in life she was put off caring for children, as she felt she had spent most of her childhood caring for someone else. Steinem went onto Smith's college, which was a women's college, where she studied government and political affairs.
After this she lived in India for 2 years, where she noted 'Living in India made me understand that a white minority of the world has spent centuries conning us into thinking a white skin makes people superior, even though the only thing it really does is make them more subject to ultraviolet rays and wrinkles'.
Writing an exposé
She returned to the USA where she then went undercover as a Playboy Bunny, where she wrote an expose on the low pay and the working conditions as well as sexual harassment, in which women were facing. She criticized its morals and how women were treated, saying "A woman reading Playboy feels a little like a Jew reading a Nazi manual."
Steinem published 'A Bunny's Tale' in the same year that Sylvia Plath published, 'The Bell Jar'. Taking on Hugh Hefner's empire, she later cited 'ALL women are Bunnies' she realised, 'but it doesn't have to be that way.'
After much critical acclaim, she began writing the column, 'The City Politic' for New York Magazine. Her first interest in feminist concerns began when she went to a meeting of the Redstockings, a New York women's liberation group. Steinem found herself moved by women's stories, particularly those which involved the dangers of illegal abortion.
She went onto testify before the United States Senate on behalf of the Equal Rights Amendments. She joined fellow leaders Bella Azbug, Shirley Chisholm and Betty Friedan to form the National Women's Political Caucus (NWPC). The women were noticed for their strong views and determined efforts to draw attention to the underrepresentation of women in politics.
She announced to the Senate: '"This is no simple reform. It really is a revolution. Sex and race, because they are easy visible differences, have been the primary ways of organizing human beings into superior and inferior groups, and into the cheap labour on which this system still depends. We are talking about a society in which there will be no roles other than those chosen or those earned. We are really talking about humanism."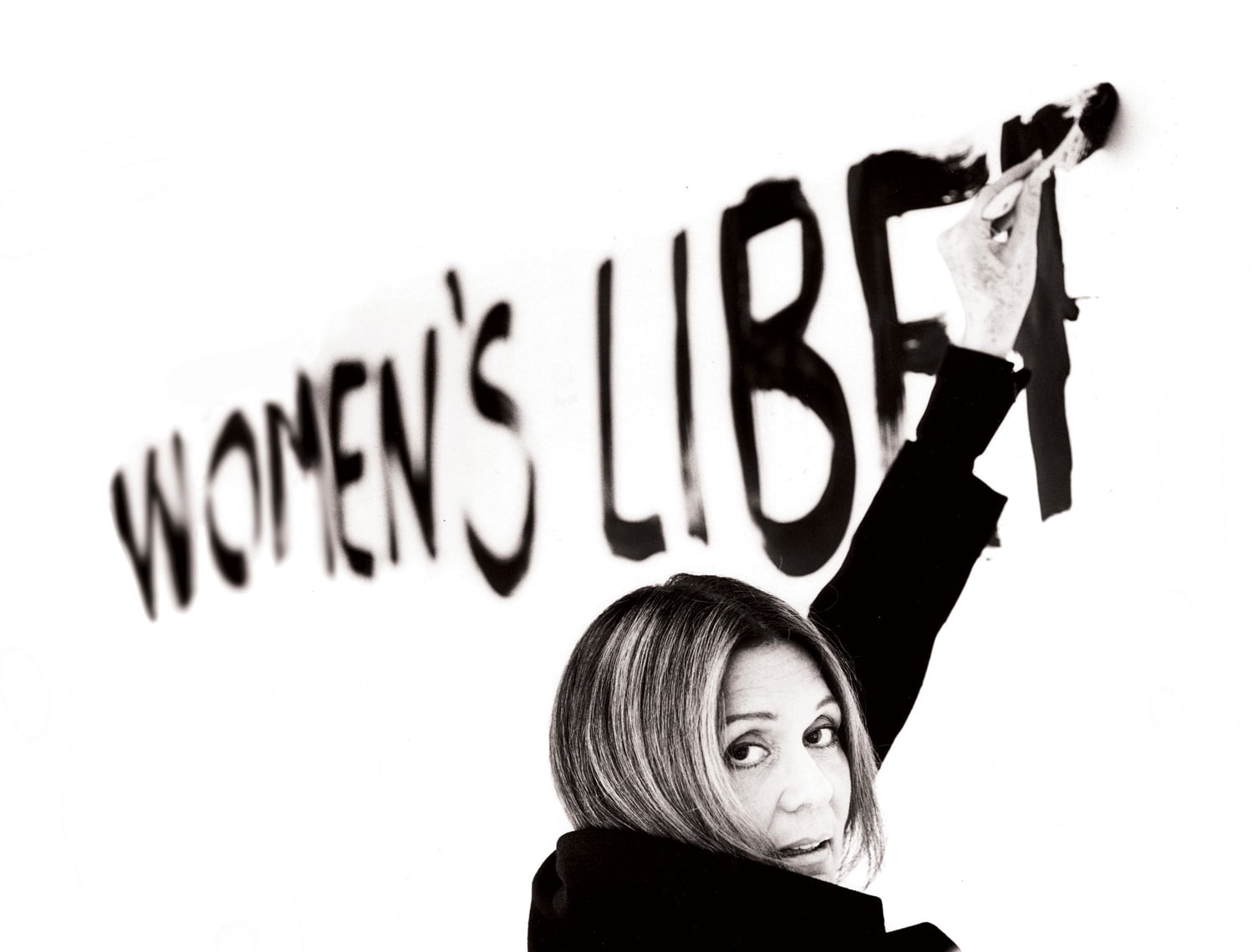 In the same year of 1972, as part of the Women's Action Alliance, Steinem went on to gain funding and mass support to co-found feminist magazine, Ms Steinem commented on her motivation for Ms Magazine, saying: 'I realized as a journalist that there really was nothing for women to read that was controlled by women, and this caused me along with a number of other women to start Ms. magazine."
Ms Magazine went onto sell over 500,000 copies and still is published today. Steinem gained attention, nationally, and respectfully from peers as she became a spokesperson for women's rights issues. She continued to speak out about matters that affected her, such as Abortion, pornography, female genital mutilation and same sex marriage. She spoke out about abortion, shocking some by saying '‪"If men could get pregnant, abortion would be a sacrament."
Asides from her protesting, Steinem continued to publish and write extensively. She published her first book in 1983, named 'Outrageous Acts and Everyday Rebellions.' The book traced back through her past, her moments as an undercover bunny, protesting with her fellow peers as well as praising notable 20th century women. She also later published a book about Marilyn Monroe, which was a sympathetic look in at the life of the film star, who Steinem had known personally. She continued to protest for equal rights, an end to the disadvantaged conditions in the paid labour force, and true equality between men and women.
When asked about the image of how a women should be presented, Steinem answered, '‪"For women…bras, panties, bathing suits, and other stereotypical gear are visual reminders of a commercial, idealized feminine image that our real and diverse female bodies can't possibly fit. Without these visual references, each individual woman's body demands to be accepted on its own terms. We stop being comparatives. We begin to be unique."
A continued inspiration
She later published 'Revolution From Within: A Book of Self-Esteem', a self-help inspirational book in which she looked at the powers of the brain and how to make our ideas become reality. She continued to publish, and was later inducted into the National Women's Hall of Fame in 1993, as well as awarded the Presidential Medal of Freedom by Barack Obama.
When asked about her activism, she said: 'Without leaps of imagination, or dreaming, we lose the excitement of possibilities. Dreaming, after all, is a form of planning.'
Steinem has been noted as an inspiration to many, myself included. She taught women that they could do anything they wanted to do, if not better than a man. She opened eyes and minds about how women felt and how they were treated, she no longer wanted to be put in the home to care for a man, and she simply wanted to prove that we are all equal.
When interviewed by Glamour Magazine, after being awarded the Lifetime Achievement Winner, she told readers, 'One, trust your own voice. Two, do what you love. And three, have a group, maybe five or 12 people, who share your values, who make you feel smart—and get together with them at least once a month.'
Even though Steinem still thinks there is a lot of work to be done for women, she was happy and excited about the progress that had commenced.
As for her own life and achievements, she summed it up perfectly, 'We are the women that our parents warned us about, and we are proud'.
What do you think of the work of Gloria Steinem? Have your say in the comments section below.