2018 has been a whirl-wind of a year for many of us and even more so for the world of sports. January was the month that seemed to be never-ending and the summer heatwave, on top of Russia World Cup, let the whole of the UK feeling like we was on cloud 9.
This year has definitely had some of the greatest sports moments that have inspired us, motivated us and left us with countless memes that have us in tears.
Here are our top 5 best sports moments of 2018:
5.Champions League final 2018
A Champions League final that had everything from goals to injuries and tears. Real-Madrid vs Liverpool 3-1 which was 90 mins of pure jaw-dropping football.
Mohamed Salah's entire career was leading up to this moment and was soon ruined by Sergio Ramos who pulled the Egyptian King's arm and injured his shoulder, midway through the first half.
Salah left the field in tears hugging Klopp as Romas became a top villain and public enemy number one in the eyes of Liverpool fans and the whole of Egypt.
Romas eventually got a taste of his own medicine after social media made memes out of his tears as Spain were knocked out of the World Cup through penalties by Russia.
To top it all off, Karius spilt Bale's 30-yard strike into his own net to make it 3-1.
4. Tyson Fury vs Deontay Wilder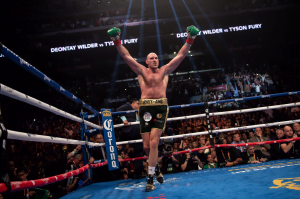 This fight had everything. What made it even more memorable was Tyson Fury refusing to give up and getting back up after a knockout by Wilder.
The fight left us all gob-smacked in round 12 when Wilder landed a right-left combination which sent Fury to the mat for a second time. Wilder and most of the world, watching the fight, where left shocked when Fury beat the count and got back up from the knockout.
The Gypsy King dominated the rest of the round leaving Wilder fatigued and unable to land any powerful shots for the remainder of the fight.
The fight ended in a draw but it was clear who the winner was on the night. Fury even won Comeback of the Year award and round 12 has won Round of the Year at the 2018 Rings Award.
Tyson Fury, who suffers from mental health issues, sent an inspirational message for all the mental health sufferers around the world after the fight.
He claimed his comeback was for everyone who suffers from mental health and anxiety; stating:
"I fought back from thinking about suicide, mental health, depression, anxiety. I wanted more than anything to show the world it can be done. Anything is possible with the right mindset."
3.France win Russia World Cup 2018
France were the most composed and tactical team from all the World Cup countries. Their 4-2 win against Croatia made it the most memorable world cup final we ever saw but what made it the best sports moment of 2018 were the celebrations that unfolded afterwards.
A day after winning the Word Cup, the French team paraded down the famous Champs-Elysees in Paris en-route to meeting the president, Emmanuel Macron. The whole team then broke out into a song dedicated to the humblest player of the France squad, N'Golo Kante, outside the presidential palace.
Unbelievable scenes outside the French presidential palace as Paul Pogba breaks out with the now famous N'Golo Kanté chant, Deschamps giddily joins in: "N'Golo Kanté, he is small, he is nice, he shut down Lionel Messi…" pic.twitter.com/7vAcUerZWD

— Get French Football News (@GFFN) July 16, 2018
France then held a World-Cup after-party a few months later at Stade de France and let's just say it was one that we are always going to remember:
From now on I'm half French and nobody can tell me anything different pic.twitter.com/pMU5SZeIqU

— Clapped (@Kayyayy_14) September 9, 2018
2.England win penalty shootout and make it to the World Cup semi-finals:
It was the hottest summer we ever had and the best World Cup we ever played. England had just won their first ever penalty shootout in a World Cup.
This was the best chance we were ever going to get of winning a World Cup final with the easiest passage to a final that any team could ask for. Argentina defeated, Portugal out, Spain out, Germany humiliated, after 50 years it finally started to feel like football was coming home.
OMG!!!!
ENGLAND JUST WON A PENALTY SHOOT OUT. pic.twitter.com/YDhs7xbGjt

— Soccer AM (@SoccerAM) July 3, 2018
The dream eventually ended, shortly after Croatia beat England 2-1 which left us all heart-broken, realising football is intact, never likely to come home.
1.Khabib vs McGregor
The Khabib Nurmagomedov and Conor McGregor fight has to be the greatest sports moments of 2018 and UFC history purely for the entertainment which let to endless bear meme's which had us in tears for days
To add to the pre-fight fuel, the former UFC Lightweight and Featherweight champion Gregor, attacked Khabib's bus in Brooklyn, N.Y. A few months later, McGregor's pre-fight trash talk in press conferences got too personal for Khabib when Mc Gregor mocked Khabib's religious beliefs.
Long story short, Khabib trashed Mc Gregor in the fourth round leaving him beaten in the ring whilst he jumped out of the octagon and started a brawl in the crowd aiming for McGregor's team.
Straight mayhem after the Khabib and Connor McGregor fight. Wow UFC had a unreal night of fights #KhabibMcGregor pic.twitter.com/8da0jg4Cg9

— The Ratty (@TheRattytweets) October 7, 2018
The best thing about the whole fight? The memes just kept on coming:
.@TeamKhabib pic.twitter.com/6B7VnuWjV2

— Dana White (@danawhite) October 10, 2018
For all the Hulk/Avengers lovers…
#UFC229, Summary of the McGregor VS Khabib fight #UFC229 pic.twitter.com/rh3KCI0J6v

— Real Estate Invst SA (@RealEstateSA_PK) October 7, 2018
Oh and of course there was the Drake memes who was supporting McGregor on the night:
Drake when he saw Khabib jumping over the octagon pic.twitter.com/skMAUzYq7U

— T (@Trizzzy_T) October 7, 2018