Before Adele's 21 there was Alanis Morisette's Jagged Little Pill, and before Alanis came Carole King and Tapestry. What do all of these things have in common? They've been called the greatest break-up albums of all time.
My love for Carole King grows every day. When I heard Tapestry for the first time, I'd never heard anything like it before. I heard such a pure, honest voice singing emotional songs which I never could grasp the words of until I personally experienced a break-up. Everything she sang felt so relatable, even though I didn't fully understand what she must have been feeling. But in the end, it only takes one album to change your life.
Born and Raised in New York City
With fingers on the piano from 4 years old, Carol Joan Klein was the heart and soul of a working family in Brooklyn. Soon forming a band called the Co-Sines in high school, she then made demo records with her friend Paul Simon of the esteemed Simon and Garfunkel, for $25 a session. Her name change came soon after she got a real taste for music and decided to become Carole King.
It was even reported that Neil Sedaka's 'Oh Carole' was written about King and how she wouldn't date him as she wanted to focus on her career. King soon responded by writing a hit tune called 'Oh Neil'. At 17 she wrote and recorded her first hit, 'Will You Still Love Me Tomorrow?' which she wrote for The Shirelles, with her songwriting partner Gerry Goffin. King soon went on to marry Goffin, still only at 17. He supported their family and worked as a pharmacist while King, who soon fell pregnant, took care of their kids all whilst penning some of the biggest hit tunes for musicians.
Writing and singing the classics
While most people associate King with her groundbreaking album Tapestry, before her success King was behind some of the most classic songs ever penned. Together Goffin and King became one of the most highly sought-out couples, selling songs week after week with much competition from fellow lyricists Cynthia Weil & Barry Mann. Eventually the couple gave up their jobs and took on being lyricists full-time. They wrote classics such as 'The Locomotion', 'Take Good Care of My Baby', 'Some Kind of Wonderful' and eventually, 'You Make Me Feel Like A Natural Woman,' which catapulted Aretha Franklin's career. Although their songwriting success was ever growing, King and Goffin found themselves drifting apart and soon divorced due to personal conflicts in their marriage. It was reported Goffin became addicted to LSD and didn't want to live the quiet life with King. Moving on with her two children, Carole moved from NYC to LA and began to write an album that would change her life.
Tapestry
While writing in LA, King went on to meet musicians James Taylor and Joni Mitchell, who gave her the confidence to start writing music again after a much needed break from music. King started to pen Tapestry and called it a healing experience as she felt she had lost her confidence following her divorce. She went on to release Tapestry, featuring tracks such as 'I Feel The Earth Move/Beautiful/You've Got a Friend' as well as original penned tracks such as 'You Make Me Feel Like A Natural Woman' and 'Will You Still Love Me Tomorrow?' King's voice gave the tracks their own distinctive sound, compared to the group harmonies once provided by The Shirelles.
Released in 1971, Tapestry spent 5 weeks at Number 1 on the Billboard Charts and sold over 25 million copies sold worldwide. Rolling Stone's Jon Landau commented on King's album, saying, "Carole's voice has often been criticized for being too thin. That it may be, but on Tapestry it is marvelously expressive from first to last. On the opening cut. "I Feel the Farth Move" (one of six songs she wrote entirely on her own), she begins on a raunchy note and works herself into a very bluesy mood. Then, when the song reaches the chorus, the melody blossoms into a pretty pop line as Carole's tone goes from harsh to soothing and she sings".
The album won four Grammy Awards including Album of the Year, Best Female Pop Vocal Performance, Record of the Year ("It's Too Late,") and Song of the Year, with King becoming the first woman to win the award ("You've Got a Friend").
King was hailed as one of the most creative influences in music.
A musical for the musical genius
In 2012, writer Douglas McGrath and producer Marc Bruni took a unique show to broadway. Beautiful: The Carole King Musical told the story of the early life of King, covering her early start in the industry with Goffin and climbing to the release of Tapestry. The show sold out its entire run and was hailed as a success for the portrayal of King's career. The show won a Tony Award for its lead actress, Jessie Mueller, who played King. Mueller went onto comment, "I guess that's why I love playing Carole. She's this woman figuring out who she is, and grows into herself before the audience."
Beautiful: The Carole King Musical has since opened in the UK.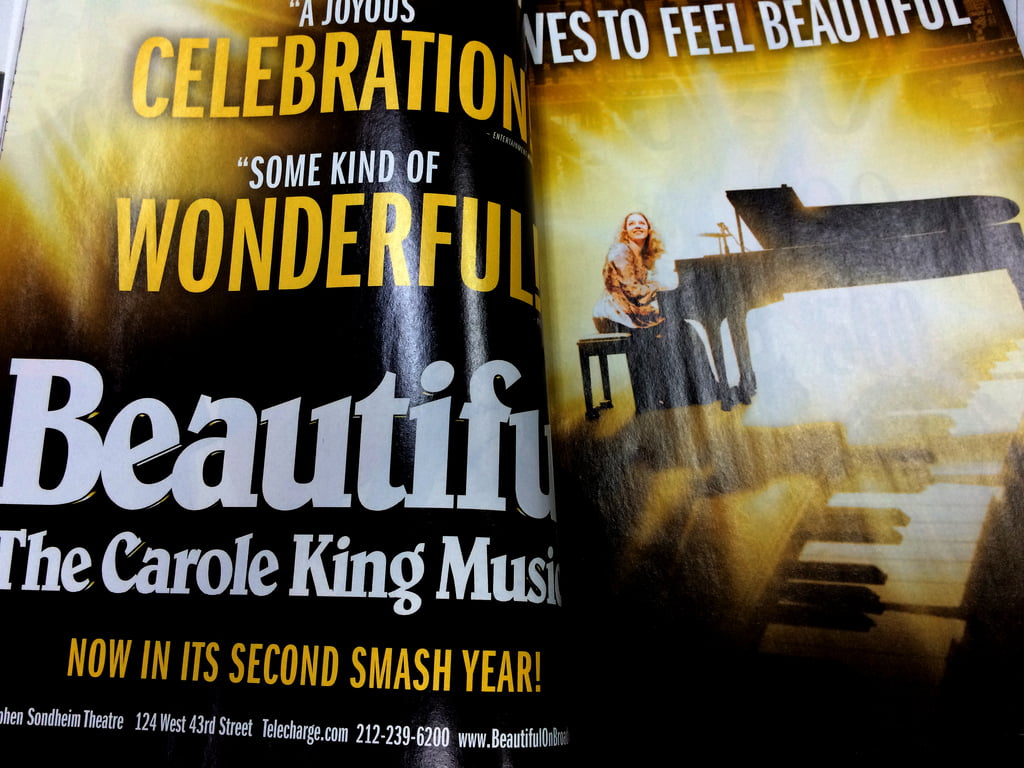 In 2000, Joel Whitburn, a Billboard pop music researcher, named King the most successful female songwriter of 1955–99 because she wrote or co-wrote 118 pop hits on the Billboard Hot 100. In 2005, music historian Stuart Devoy found her the most successful female songwriter on the UK singles charts 1952–2005. King has won four Grammy Awards and was inducted into the Songwriters Hall of Fame and the Rock and Roll Hall of Fame for her songwriting. She is the recipient of the 2013 Library of Congress Gershwin Prize for Popular Song, the first woman to be honoured.
Are you a fan of Carole King? Who's your favourite woman in music? Let us know in the comments below!