It took me a long time to realise this, but tools really are vital to ensuring your makeup looks good. Sure, they can be boring to research and purchase – who wants to buy a brush when you could have an amazing new lipstick for the same price, right? However, no matter how brilliant your new makeup product is, if you don't have the correct tools to apply it well, then it's not going to reach its full potential. Here are some of my top tools and brushes for applying makeup.
Beautyblender
I spoke about the wonders of this magical sponge in my last article, The Products Staying In My Makeup Bag This Year, and I really can't stress enough how wonderful it is. It seems odd at first to run a sponge under the tap (then drying it off, of course!) before applying your foundation with it, but such is the way of the Beautyblender. It helps to apply foundation flawlessly, spreading it evenly and smoothly across your skin. I know it just seems like an expensive sponge, but it's so different to any other, and you'll see the difference immediately as soon as you try it.
Buy it here.
Zoeva 102 Silk Finish Foundation Brush
If you're not a fan of sponges or just prefer to use a brush, then the best foundation brush I've come across is by Zoeva. I use this to apply my foundation to my face, and then use a Beautyblender to blend it out. However, if I'm feeling too lazy to go and dampen my Beautyblender, this brush works just fine alone for foundation application. The domed shape of this brush is perfect for the job, and it works so much better than flat foundation brushes (which genuinely might be one of my least favourite makeup tools ever).
Buy it here.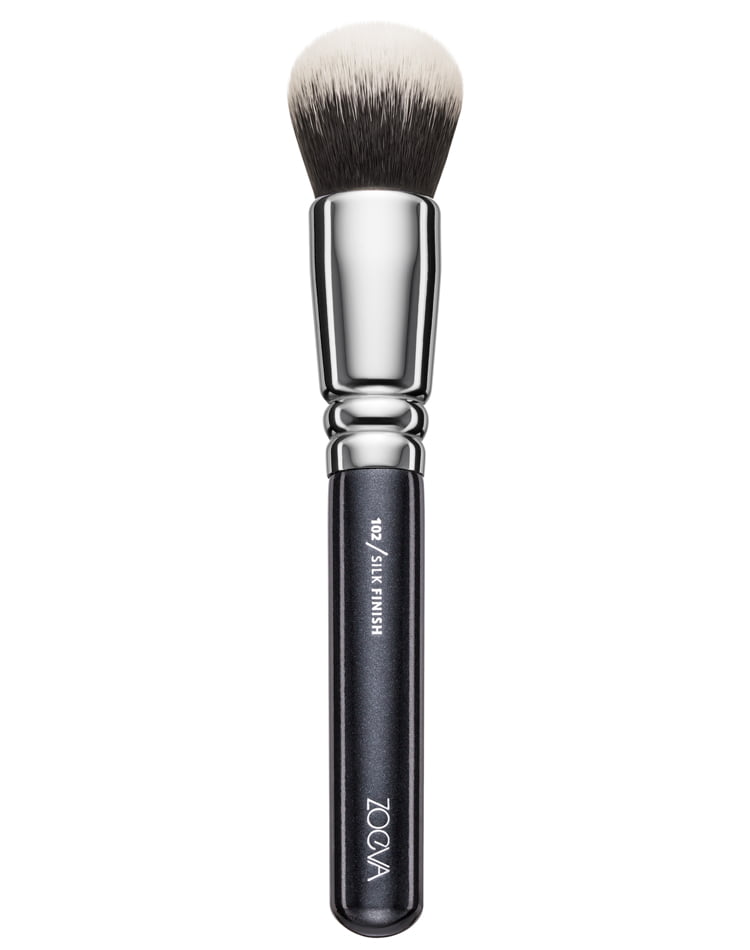 Spectrum eyeshadow brushes
I bought Spectrum's set of eight pink, aesthetically pleasing eyeshadow blending brushes when I realised that I was going to struggle to create anything remotely like those insane eye makeup looks you see all over Instagram with the few low quality brushes I had. Buying individual eyeshadow brushes can be expensive, so purchasing a set of them is definitely worth it and better value for money. This set is a brilliant deal, providing eight different eyeshadow brushes, including large ones for applying a base colour, an excellent blending brush and smaller brushes for detail. And what's more, all of Spectrum's brushes are vegan and cruelty free, which can never be a bad thing.
Buy it here.
Tarte Double Ended Highlighter Brush
This brush is something I bought on a bit of a whim, mostly because I needed a highlighting brush and this one was so pretty I fell in love with it (that purple to gold gradient is just divine). I can't get along with fan highlighter brushes, and it turns out this one is amazing. The chunkier end is perfect for highlighting the cheeks, and the smaller end works brilliantly for the nose, inner corner and brow bone.
Buy it here.
Makeup Revolution Pro Fix Fixing Spray
I'm not entirely sure this counts as a tool as such, but I wouldn't necessarily call it makeup either. Regardless, this setting spray is a great product. I'm a little sceptical of how well setting spray works, but at the same time, I won't go without it. I've tried Urban Decay's famous one, but I've found that this Makeup Revolution setting spray works just as well for a third of the price. Plus, the lower cost means you can use it lavishly without worrying about wasting it – what's not to love?
Buy it here.