With Christmas just around the corner (eek!), the time of year has come for family and friends to start the interrogation for gift ideas. By no means is my list overflowing with beauty products, as I wouldn't consider myself a make-up "addict" as such, but here are some products which I'm finding ever-so-slightly irresistible, and will definitely be adding to my wish-list.
1.
When it comes to base products, I stand by Rimmel London as my absolute favourite brand – something about their liquid foundations work so well with my skin type, and the consistency is never too thick or gooey.
However, the first item on my wish-list is not foundation, but is in fact Rimmel London Good To Glow liquid highlighter. I haven't purchased this product before, however recently tested it in store and was amazed at how such a small blob of it could add such a sparkle to my skin.
Having had major issues with balm/stick highlighter recently (I've been having to use 3 layers for it to even slightly show!), I'm desperate to try out this liquid and see whether the real thing lives up to expectations when put to the test of a day's wear.
By using Rimmel's above Highlighter along with their Powder below, a dewy glow such as this could be created!
2.
The second item on my wish-list is by Rimmel London again (honestly, you'd think I was sponsored by them seeing the amount of their products I own!). However this item is a trusty old friend I've been using for years but am running dangerously low on – Rimmel Stay Matte Pressed Powder.
I'll admit, I've never actually tried any other brand of powder so can't provide any comparisons, but what I can do is declare my undying love for this product. It stays on well throughout the day (which is a must for a powder), it doesn't wash out your natural pigments and make you look like a zombie, it lasts for a fair while (mine usually lasts 2-4 months depending on how often it's used), plus it's cheap – only £3.99 from Boots!
I'd recommend this product to anyone and everyone, and have my fingers crossed that I'll be receiving this as a gift at the end of the month!
3.
This product is by the brand NYX, which has been suggested to me by multiple friends. I'd feel like I was missing out if I didn't have one of their highly-recommended eyeshadow palettes on my wish-list this Christmas.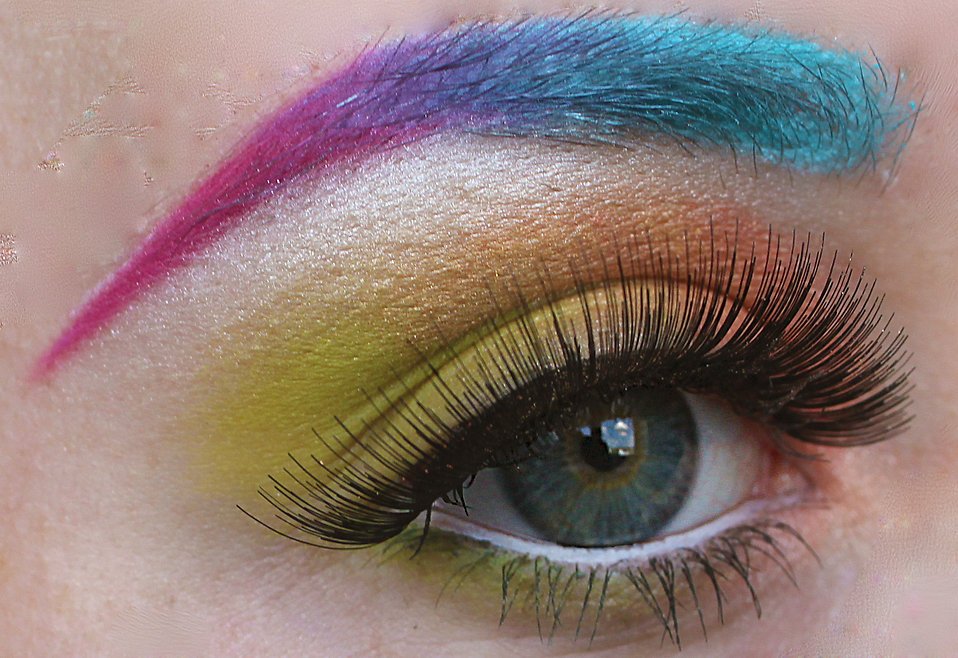 I'd love to achieve a look like the one above using NYX's palette!
I already own an eyeshadow palette by Freedom which contains neutral colours such as gold, grey, pale pink etc, however I'm after some bolder and brighter colours, which is why the NYX Professional Makeup Ultimate Shadow Palette in Brights has grabbed my attention, and why I'm adding it to my wish-list.
Voila! There are my top three beauty product wishes this Christmas.