As a committed and unapologetic bookworm, there are a ton of amazing books releasing in the next twelve months that I am VERY excited to read. However, I noticed throughout last year that UK authors are kicking butt in terms of awesome books being released – especially in two of my favourite age categories, middle grade and young adult. In order to celebrate this homegrown talent, these are the top 5 books by UK authors I am looking forward to reading in 2017.
1. Just Call Me Spaghetti-Hoop Boy by Lara Williamson.
My name is Adam Butters. I live on planet Earth, I like eating spaghetti hoops and I've decided I'm going to be a SUPERHERO.
Everyone loves superheroes, they solve problems and make people happy, and that's good because my mum needs cheering up. Also, I've found out that before I was adopted my real mum called me ACE. So now I've just got to prove to the world that's what I am. One mission at a time…
Hilarious, heart-warming and heart-breaking in equal measure, this is a story about the power in all of us to be extraordinary.
Fun fact: I've met Lara Williamson, and she was so lovely. It was at a writer course, and as soon as I realised that I had her book at home, I freaked out! Meeting authors is the coolest! If you've read her previous books, A Boy Called Hope and The Boy Who Sailed the Ocean in an Armchair, you'll know that Lara has a way of spinning beautiful middle-grade stories that simultaneously tug at your heartstrings and make you laugh–hard! Just Call Me Spaghetti-Hoop Boy looks set to continue this, and the subject matter is one of my favourites: superheroes. I will definitely be picking this one up ASAP.
Release date: March 1st 2017
Image: Lara Williamson/Usborne Children's Books
2. A Girl Called Owl by Amy Wilson
It's bad enough having a mum dippy enough to name you Owl, but when you've got a dad you've never met, a best friend who needs you more than ever, and a new boy at school giving you weird looks, there's not a lot of room for much else.
So when Owl starts seeing strange frost patterns on her skin, she's tempted to just burrow down under the duvet and forget all about it. Could her strange new powers be linked to her mysterious father? And what will happen when she enters the magical world of winter for the first time?
A glittering story of frost and friendship, with writing full of magic and heart, A Girl Called Owl is a stunning debut about family, responsibility and the beauty of the natural world.
This book sounds absolutely beautiful. I'm such a fantasy fan, and I adore winter in books! I'm also a sucker for the mysterious powers troupe, books that feature friendship and magical worlds! Basically, what I'm trying to say is this book sounds right up my street and I am very excited to read it. Plus, it's a debut, and discovering new authors that I love is another of my favourite things.
Release date: January 26th 2017
Image: Amy Wilson / Macmillan Children's Books
3. Beetle Queen by M.G. Leonard
Cruel beetle fashionista, Lucretia Cutter, is at large with her yellow ladybird spies. When Darkus, Virginia and Bertolt discover further evidence of her evil, they're determined to stop her. But the three friends are in trouble. Darkus' dad has forbidden them to investigate any further – and Lucretia's disgusting crooks, Humphrey and Pickering, are out of prison. Hope rests on Novak, Lucretia's daughter and a Hollywood actress, but the beetle diva is always one scuttle ahead …
Last year I read and LOVED Beetle Boy, the first book in this series which I kid you not, will make you fall head over heels in love with beetles. Beetle Boy was a middle-grade mystery adventure novel about a boy, his missing dad, an amazingly frightening villain, and of course, beetles. If you haven't read it, GO READ IT NOW–it was one of my favourite reads of 2016. And if you have read it, you can join in with me and get all excited about Beetle Queen, the second book. If the synopsis is anything to go by, this looks just as fantastic as Beetle Boy and I am so excited to continue reading this fabulous series.
Release Date: April 6th 2017
Image: M.G. Leonard / Chicken House Books
4. The Painted Dragon (The Sinclair's Mysteries) by Katherine Woodfine
A fast-paced historical mystery adventure for readers aged 9+, with gorgeous Edwardian period detail. Perfect for fans of Chris Riddell's Goth Girl series, Enid Blyton and Robin Stevens's Murder Most Unladylike series.
When a priceless painting is stolen, our dauntless heroines Sophie and Lil find themselves faced with forgery, trickery and deceit on all sides!
Be amazed as the brave duo pit their wits against this perilous puzzle! Marvel at their cunning plan to unmask the villain and prove themselves detectives to be reckoned with – no matter what dangers lie ahead… It's their most perilous adventure yet!
I have had this book on pre-order for months! The Painted Dragon is the third book in the Sinclair's Mysteries series. Set in Edwardian England, the series follows Sophie, an employee at Sinclairs, the largest and best department store in London, Lil, a chorus girl on the West End stage and a host of other friends as they solve mysteries. The books so far have been fast paced, with tightly plotted mysteries and solid character development and the setting of Edwardian London is immaculately researched and beautifully written. If you are into mysteries, I really recommend this book.
Release Date: February 9th 2017
Image: Katherine Woodfine / Egmont
5. Margot & Me by Juno Dawson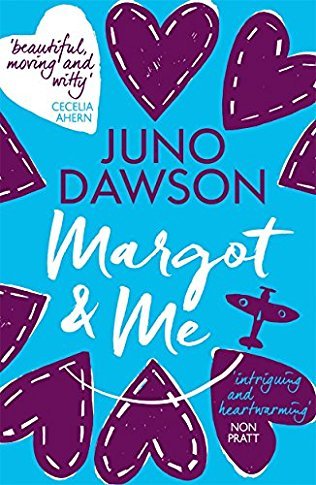 Sometimes love has to cross all kinds of barriers…
Fliss is on the way to visit her grandmother in Wales – the grandmother who she doesn't get on with – with her mother who is recuperating from chemotherapy. But her mum is getting better, that's the main thing, so Fliss can concentrate on being grouchy and not looking forward to meeting her grandmother Margot, who is so cold and always so unforgiving of Fliss's every mistake… But when the six months is up, Fliss consoles herself, she and her mum will go back to London and back to Real Life!
In the meantime, Fliss needs to get used to her new school, not upset the scary girls, and just keep her head down (whilst still making sure that everybody knows she is from London, of course). Then Fliss discovers a diary at the back of her bookcase. It is from the 1940s and is set in World War II, and, Fliss realises, is actually Margot's diary from when she was a young woman during the Blitz. Intrigued, Fliss begins to read. There she discovers a whole new side to Margot, a wartime romance and also Margot's deepest, most buried secret. And it is then that Fliss discovers something terrible in her own life that she is going to have to come to terms with…
I'm ashamed to say I've never read anything by Juno Dawson, but this is the book that changes it! I love narratives that stretch across time, and this sounds beautiful
Release Date: January 26th 2017
Image: Juno Dawson/Hot Key Books
So those are some of the books I am most excited about reading this year. What are your most anticipated reads of 2017?