Late heavy-weight boxing Champion and Olympic gold medallist Muhammad Ali was one of the most inspiring man to live till this date.
Muhammad Ali was not only a professional boxer but also a religious man and a civil right activist who created a reputation for his positive and motivational outlook on life.
Even after two-years of his death, Muhammad Ali inspired millions of people around the world from athletes to business owners to activist and students. We can all apply some Muhammad Ali motivation in whatever we want to achieve in life.
Hence here's our top 10 inspiring quotes from the Greatest:
"I am the greatest. I said that even before I knew I was." 
Always believe in yourself from the start, imagine what you want to be and where you want to be and no doubt you'll get there.Convivence your mind you're the best they're going to get.
 "Float like a butterfly, sting like a bee."
Be kind and gentle in your day to day life. Always remain humble and soft to those who support and care about you, but when the moment comes do not be afraid to use your strength.
"If my mind can conceive it, if my heart can believe it, then I can achieve it."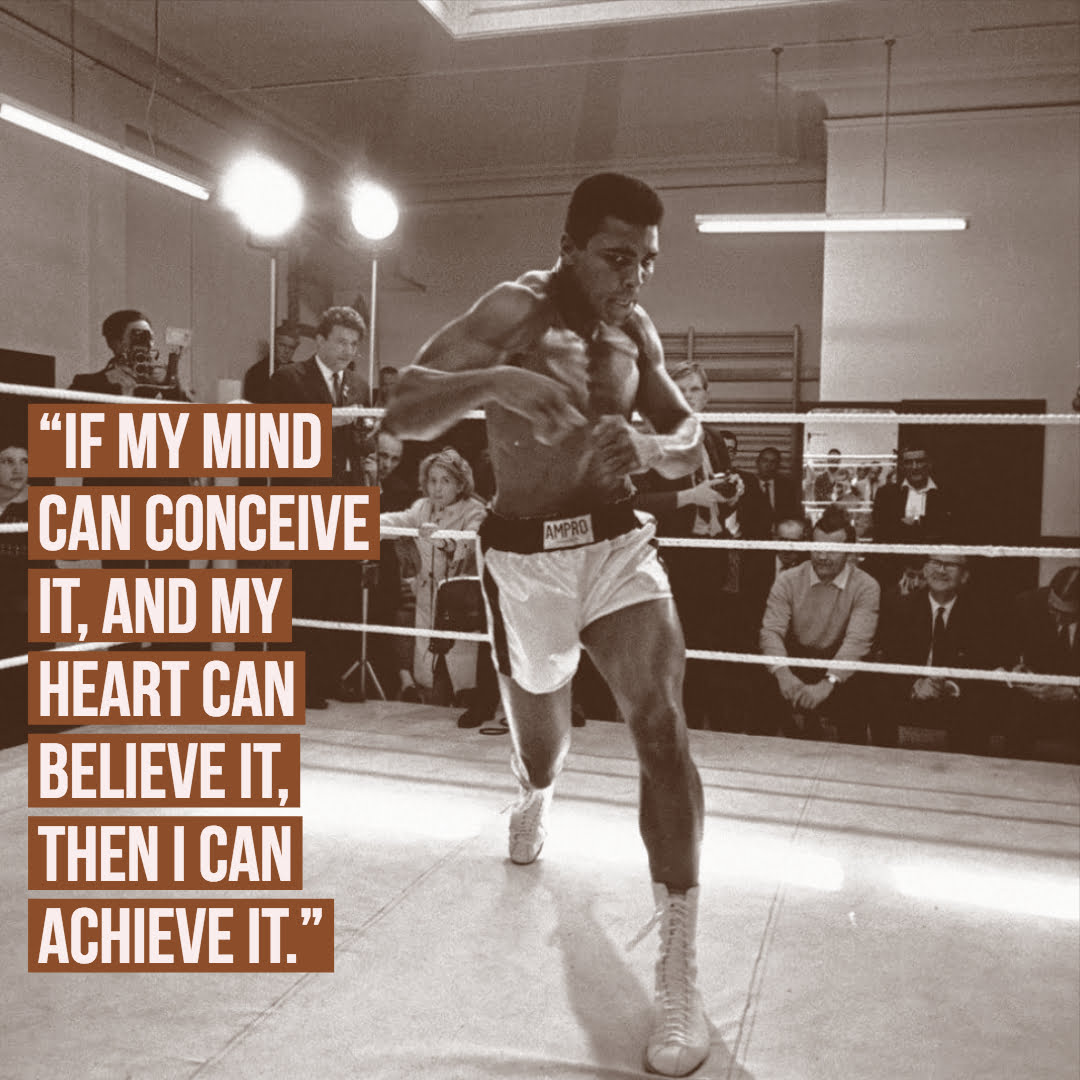 Believe in yourself even if the whole world doubts you. Mohammed Ali's success itself was solid proof that dreams do really come true. Where there is a will, there's always a way. If we just keep believing in ourselves, our dreams will come true.
"If your dreams don't scare you, they aren't big enough."
you're not aiming high enough if you're sitting comfortably. Don't be ordinary, have dreams that you fear and chase after them until they no longer scare you but rather give us everything we ever wanted. Like the champ himself, always aim higher.
"I hated every minute of training, but I said don't quit suffer now and live the rest of your life like a champion."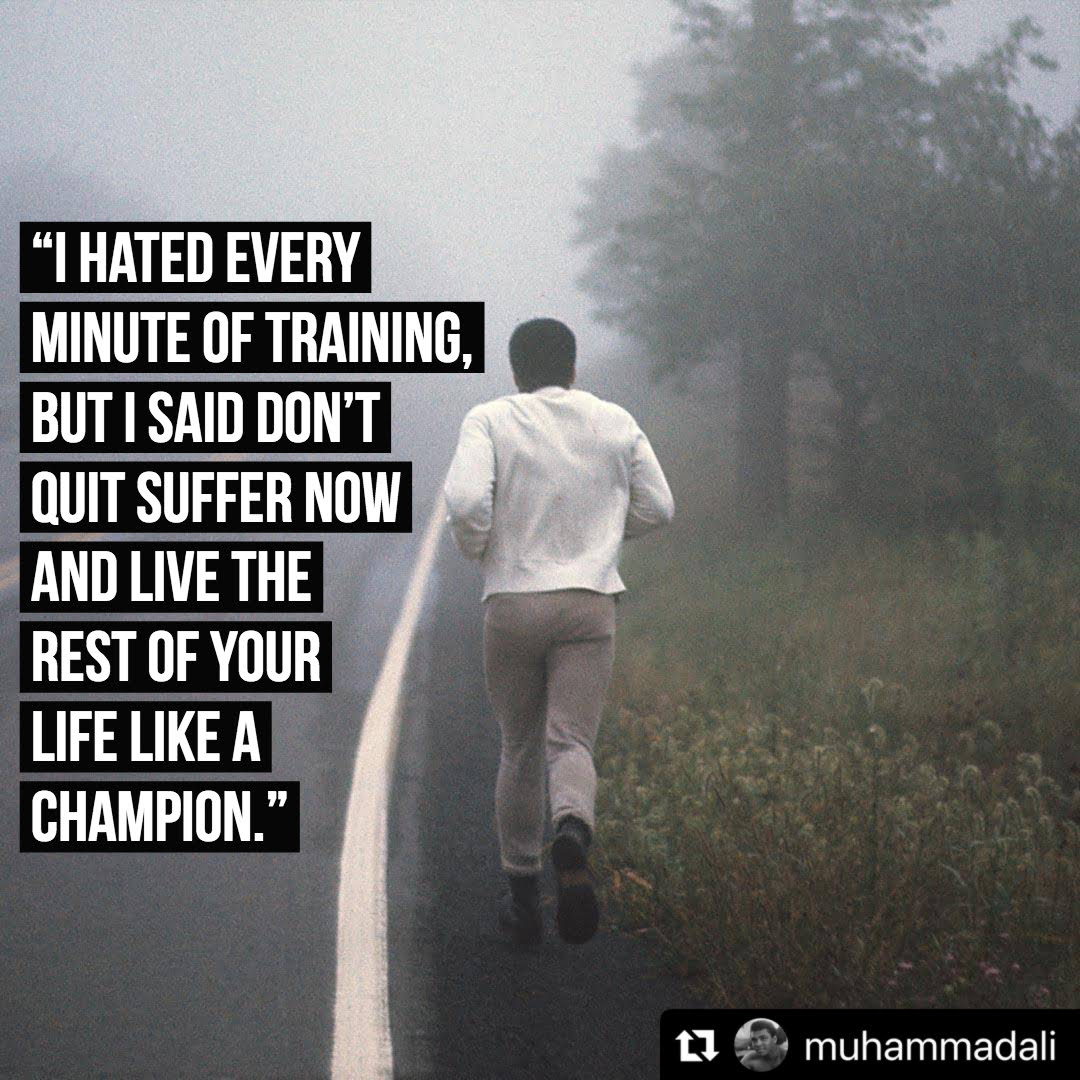 Sometimes you're going to want to quit. You're going to doubt yourself. You're going to want to give up but no matter what don't quit. Work harder every single day and live the rest of your life like a king. Mohammed Ali's hard work and dedication is what made him a champion.
"Live everyday like it is your last because someday you're going to be right."
Nobody is guaranteed tomorrow so start today. Make all your days count. Life is too short to delay your dreams or leave it till tomorrow. Spend time with the ones you love and always stay humble, hungry and focused.
"He who is not courageous enough to take risks will accomplish nothing in life."
You don't know unless you tried. If you're not ready to take risks, then you'll never achieve success. Don't be afraid to take risks, take note out of Ali' book, it's not always bad to fail. Failure only makes more room for success.
"It isn't the mountains ahead to climb that wear you out; it's the pebble in your shoe."
It's the little things on the road to the top that are the most important. It's the little things that can trip us up along the way. Always keep your key on the detail, that's what made Muhammad Ali world champion.
"Don't count the days. Make the days count."
Sometimes we lose focus, give up and start to slip up. Ali reminds us to make the most out of every day. Every single moment matters and make sure you make every moment count.
"I know where I'm going, and I know the truth, and I don't have to be what you want me to be I'm free to be what I want."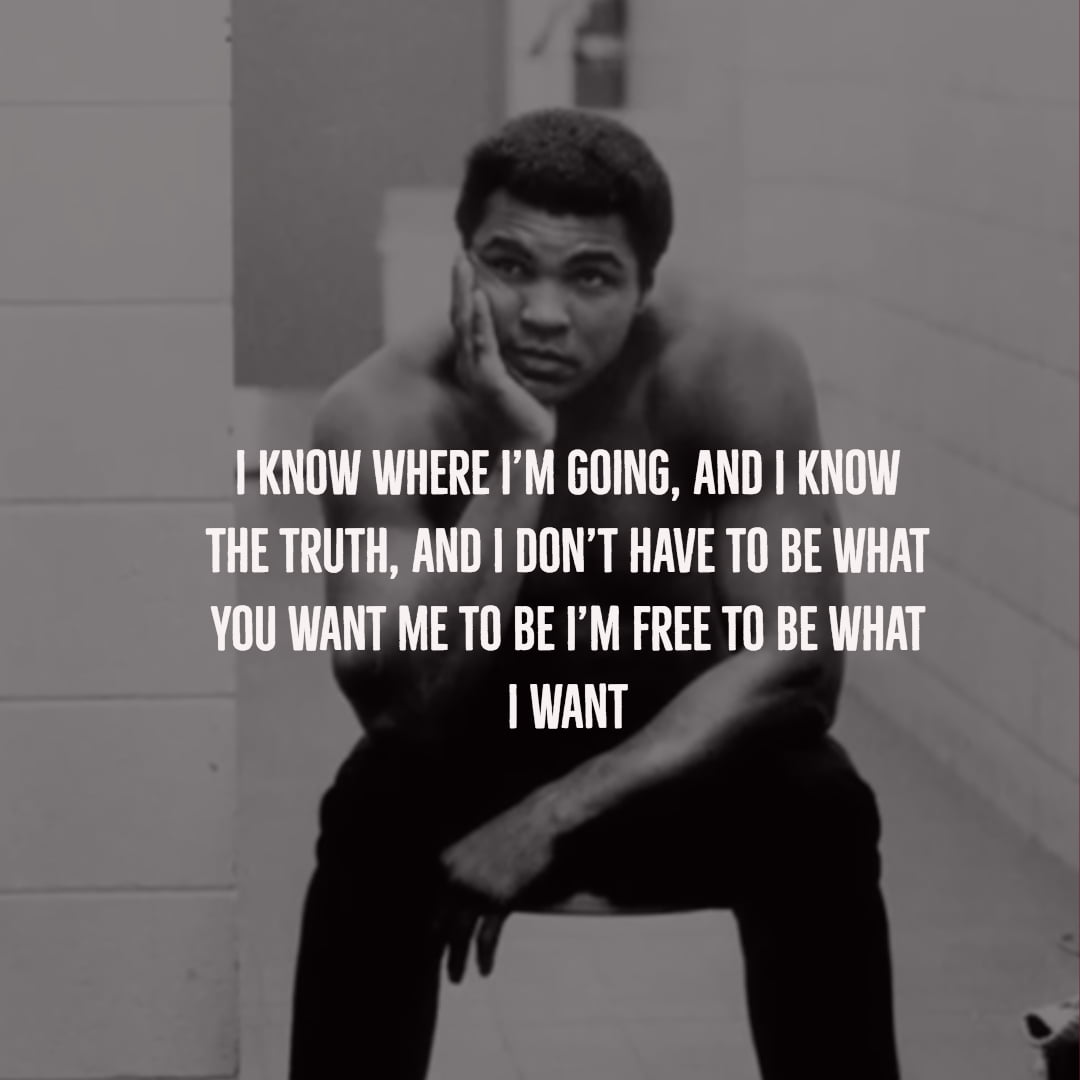 Not everyone is going to like you. Not everyone is going to believe in you. Not everyone wants you to get to the top but as long as you keep your heart clean and intentions what others think doesn't matter. You know who you are and where you are heading. Stay true to yourself.