Triumph Motorcycles are preparing to do the unthinkable next week by breaking the Motorbike Land Speed Record with a speed of 400mph.
Set to be ridden by TV personality and well-known adrenaline junkie Guy Martin, the company will take to the legendary Bonneville Salt Flats in Utah to attempt to break the existing 376.8mph record.
The lengthy named Triumph Infor Rocket Streamliner packs a cool 1,000bhp from two turbocharged Rocket 3 engines which are housed in a 25ft long carbon Kevlar body. Unsurprisingly, the bike has already become the fastest ever Triumph motorcycle after reaching 274mph during a practice run in early August.
The designer of the Streamliner, Matt Markstaller, spoke of the plans, saying: "We achieved a great deal during our test week at Bonneville and feel we are in a great position to move ahead with our record attempt. Guy settled into the streamliner very quickly and impressed us with the speed in which he mastered both the motorcycle and riding on the salt."
Surface conditions are expected to be more suitable for a record-breaking run next week which lead to a mid-September target for the record.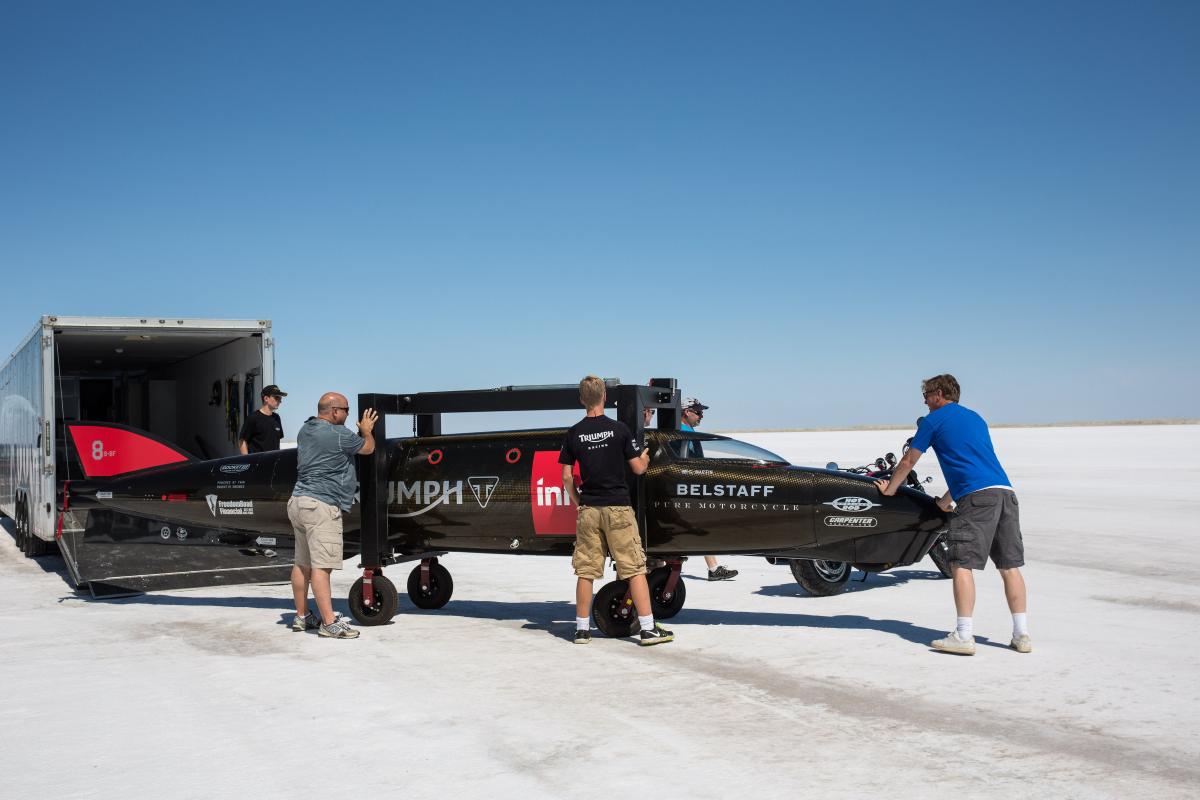 The 1,000bhp Triumph on the Bonneville Salt Flats
Markstaller added: "While conditions were some of the best I have seen over the last few years, we feel there is still some room for improvement.When chasing a record such as this on two wheels the conditions have to be the very best they can be, to give us the greatest chance of achieving the speeds we require to set a new record. We feel that waiting a few further weeks will provide us with even better conditions and put us in the ideal position to make our record attempt."
Speed Records are nothing new for the Leicestershire based manufacturer, having held the record for fastest motorcycle from 1955 to 1970. Previous speed runs on the flats inspired the Bonneville model name that has become synonymous with Triumph ever since.