Christmas break is the perfect time to catch up on your reading; to pick up a book that has been on your shelf for a long time. But it is also a good chance to read some festive books. I thought I would share with you four festive books perfect to read during the Christmas break.
My True Love Gave to Me by Various Authors
This is a collection of twelve short festive stories that are perfect to read over the twelve days of Christmas. The book is edited by young adult author Stephanie Perkins and includes tales from a variety of authors including Rainbow Rowell, Jenny Han, David Levithan and Gayle Forman.
If you don't have much time to read then this book is perfect becuase you get twelve mini-stories in one book. You can read works from new authors, as well as your favourites.
Dash and Lily's Book of Dares by David Levithan and Rachel Cohn
This short young adult novel is the perfect Christmas adventure set in New York. It follows Dash and Lily as they exchange dares, passing a notebook back and forth in different locations of the iconic city. It is a quick feel good read which will make you wish you were in the New York snow for the holidays.
Let it Snow by John Green, Maureen Johnson and Lauren Myracle
When a snow storm hits a small village it creates a Christmas to remember, as told in three different stories. Very much like My True Love Gave To Me, this book is perfect if you don't have much time to read. But, instead of different stories bundled together, this book compiles these three stories to create one massive adventure in this town.
All three stories are beautiful and work so well together, and you will wish that this book had a sequel.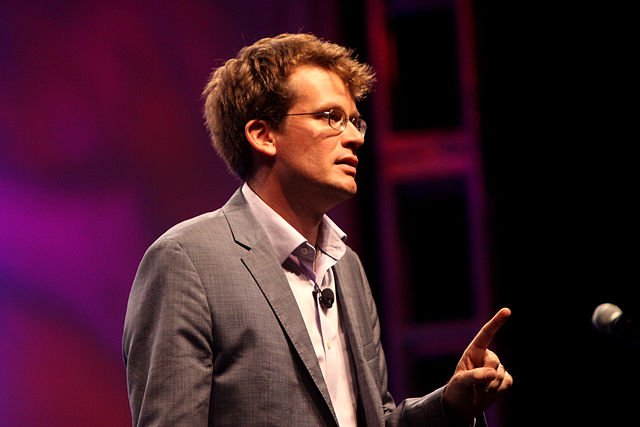 John Green, Wikimedia Commons
I Heart Christmas by Lindsey Kelk
This is the sixth book in the I Heart series, but you do not need to have read the others to enjoy and understand this winter novel. It is a new adult book that will make you laugh your socks off. Angela is a British girl living in New York with her boyfriend, and when everything goes wrong at Christmas she is in for a rollarcoaster ride.
The characters in this series and novel are perfectly written and will remind you of your own friends and family. The series itself is brilliant and the perfect read to make the transition from Young Adult Fiction to New Adult Fiction.
What are your favourite festive reads? Let us know in the comments below!