Finding your perfect skincare routine can sometimes feel as hard as finding your perfect life partner; both can seem perfect to begin with, but can leave you feeling cheated, dry and a much poorer then when you started. So when you find a skincare regime that works for you, it's important not to let major life events, such as going to university, get in the way of your skin's health.
For this reason, I have compiled short and manageable skincare routine, including products that are effective but don't break the budget, in order to keep your face looking and feeling fresh, even if you might not be.
1. Makeup remover
First and foremost, always make sure you take off your makeup before you go to bed. This is the number one rule of any skin care regime. Whilst you may have strolled in at 4am and dove straight into bed, both your skin and your pillow will feel the repercussion of this. Keep a bottle of Garnier's Micellar Water by your bed, so that no matter what state you arrive home in, you will be reminded to cleanse your skin. Always use a cotton pad to remove your makeup, and these can be bought much cheaper if you buy them from the baby section rather than the makeup remover section.
Ditch the makeup wipes as they do no favours for your skin or for the environment.
2. Face wash
After removing your makeup, a good face wash is essential for removing dirt and any make up you might have left behind. I have sampled many facewashes, ranging from high end brands such as Clinique, to much cheaper alternatives such as own brand face cleansers. My favourite has remained Garnier's Pure Active Face Wash. It is gentle, effective and cheap and it doesn't leave your skin feeling dried out.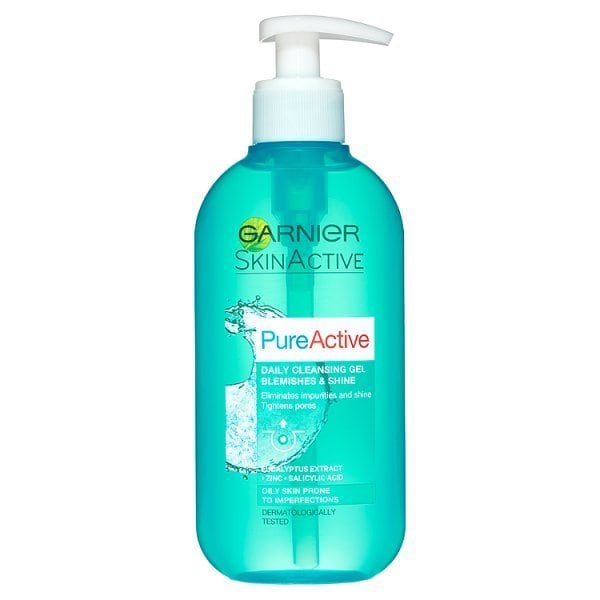 3. Exfoliate
Two nights a week, follow your face wash with a good exfoliator. Doing this step ensures that you remove any dead skin cells, and so the products that you use after this are much more effective. St Ives exfoliating face scrub is cheap, smells great, and leaves your skin feeling fresh as a baby's.
4. Next is toner
An essential as it helps to restore your skin's pH after cleansing. There are a lot of toners out there, but I would suggest that you opt for an alcohol free toner, as alcohol based toners can sometimes cause breakouts. A personal favourite of mine is The Body Shop Vitiamin E Toner. It has a lovely light fragrance and it leaves the skin feeling moisturised, which I think we can all agree is a great thing.
5. The last step is moisturising.
You should do this in the morning and at night. Again, there is an ever expanding availability of moisturisers, and this can be both a good thing and a terrible thing. Perhaps for a long term moistures, you might wish to seek out different products and reviews before you commit; I would suggest you always ask for a sample before buying, to see how your skin reacts.
I personally love Nivea's Light Daily Moisturising Creme, and you can often buy this in your local supermarket. For an evening moisturiser, opt for something with a heavier consistency, such as Boot's Botanics All Bright Hydrating Night Cream. It isn't overly thick, but it certainly does the job in making your skin super soft, especially considering the price!