When it comes to fashion the choices are endless, and unfortunately, so are the prices. It's known that designer branded clothes are out of any average person's budget, especially of students'. So just as beauty has its own brilliant dupes, affordable shops have recreated some of the most jaw-dropping fashion items at more human prices so we can all enjoy them and look rad.
Gianvito Rossi pumps – £510
They are absolutely stunning and once you try them on you're extremely tempted to give in and invest the money. Another look at the price tag and you leave the shop with a sad face thinking that you have some serious savings to do.
Dupe: Office Alive Perspex Heels £68
Saint Laurent backpack – £1.150
First time I saw this backpack I almost cried because I couldn't have possible spent two months' pay on it. Lucky for me and the rest of us, Asos did a pretty good copy of this backpack for only £28 (on sale). Make sure to keep an eye on it because it sells FAST!
Dupe: Yoki Fashion backpack £28 (on sale)
Yeezy bomber jacket – £1.149
For all the fashionistas out there who love a bit of a ghetto look Kanye released one of the nicest bomber jackets in one of his collection. In a shade of elm green the jacket prices around £1000… Not cheap, huh? Thanks to River Island though, you can now have a jacket similar to Yeezus' and even better: comes in different colours!
Dupe: River Island Khaki green bomber jacket – £45
Gucci embroidered patched jeans – £1400
We all know that patched denim is the sh*t right now and that it can transform any look making it more real and badass. While ripped jeans might be a more breezy alternative, the embroidered florals add a soft touch to the hard denim. Gucci's famous jeans worn by models such as Kendall Jenner have left us dying for a pair. Well, Topshop didn't wait too long and launched their own lighter version of patched jeans. Less is more.
Dupe: Topshop Moto embroidered straight jeans – £25 (on sale)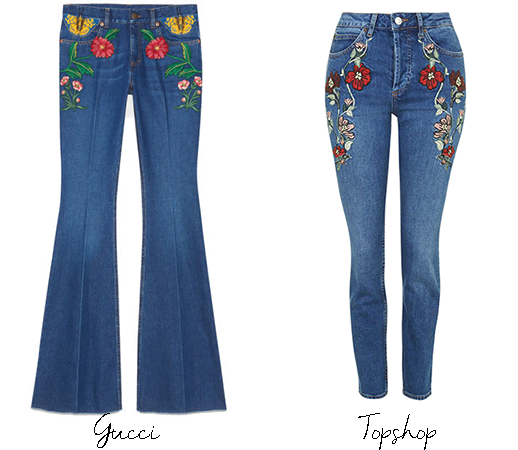 Valentino Rockstud ankle strap – £1.075
Good old Valentino and its gorgeous shoes. The famous studded heels have been raved about by bloggers, vloggers and ultimately worn by celebrities. They're simple, yet sophisticated and easy to wear with pretty much anything. One of its best dupes must be from Dune, brand which came up with a variety of colours and patterns to relate to the original brand.
Dupe: Dune Cliopatra – £52 (on sale)