This year saw the publication of many excellent books, both by debut novelists and by authors that had been under the radar for a few years. The Nobel Literature Prize was awarded this year to Kazuo Ishiguro for his ability to "uncover the abyss beneath our illusory sense of connection with the world", the Man Booker Prize went to George Saunders for his book LINCOLN IN THE BARDO, and race and politics seemed to see a surge in amount of books published discussing these issues. It was, overall, an interesting year for literature, and in this article I've listed my five favourite books released in 2017.
Always And Forever, Lara Jean
by Jenny Han // published in May 2017
This is Jenny Han's last book in the To All The Boys I've Loved Before trilogy, and in my opinion, it is by far the best.
Lara Jean is a senior in high school worrying about university applications, shifting family dynamics, and finding the perfect chocolate chip cookie recipe. She has a plan all laid out for her future, but as everything seems to be lining up some unexpected news ruin them all.
Jenny Han is an incredible writer with the ability to create realistic and vivid characters that grow during her novels, and this one is no exception. Uncertainty about the future, financial decision that need to be made surrounding education, and learning how to navigate changing family values are the central themes of the book. Love, friendship, distance, and finding one's place in the world are dealt with in a refreshing manner and make the reading experience amazing — perfect for those who (like me!), because of their literature degrees, feel at times that reading has become a chore.
Dear Ijeawele
by Chimamanda Ngozie Adichie // published in March 2017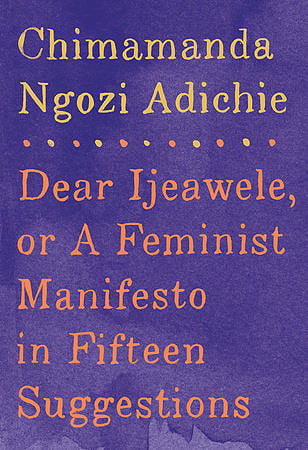 Dear Ijeawele, or a Feminist Manifesto in Fifteen Suggestions written by Nigerian acclaimed author Chimamanda Ngozie Adichie is a powerful and empowering little book about raising a child as a feminist.
Adichie decided to write this book as a response to a letter she had gotten from a childhood friend asking her for advice on how to raise her newborn daughter as a feminist in West Africa. The author, who has published other feminist works, giver her fifteen suggestions such as " 'Because you are a girl' is never a reason for anything. Ever." and "Teach her about difference. Make difference ordinary. Make difference normal."
All throughout the book, the author's voice is endearing and never condescending, making every chapter a treat to read. Due to the subject matter and to the quotability of the writing style, this collection of essays is one of my favourite books of the year.
Exit West
by Mohsin Hamid // published in March 2017
At the brink of civil war in an unnamed city in the Middle-East two young people meet and start a relationship with bombs exploding and people fleeing as the background. Suddenly, these magical doors that magically transport people to far away places start popping up, and as violence gets more and more brutal the couple decide to leave their homeland behind — and become refugees.
Hamid's book explores what it means to have one's life turned inside out, to become a refugee, and how those experiences affect one's mental state and personality. It tells a story of love and courage with magical realism giving life and depth to the plot.
The writing style is marvelous. It swings from ultra-realistic accounts of violence and brutality, to magical testimonies of changing and coming to terms with said changes. The description of war and refugees is so poignant that it made me reevaluate the ideas I had of them.
The Best We Could Do
by Thi Bui // published in March 2017
This is an illustrated memoir by Vietnamese artist Thi Bui that explores life in Vietnam before and during the Vietnam War, fleeing the homeland as a refugee, and the lasting effects that displacement has on a child and her family.
In the 1970s her family fled from South Vietnam during the fall of the region and embarked on a journey that would eventually lead them to settle down in San Francisco, California. With the birth of her first child, she examines in beautifully illustrated pages the sacrifices that come with parenthood, endless sacrifices of immigrant parents, and growing up as a Vietnamese American during the 70s and 80s in the United States.
Thi Bui is a debut author, and her illustrations and depth of plot and character analysis make her stand out. This is a passionately told story and one of my absolute favourite reads of the year.
Homegoing
by Yaa Gyasi // published in the UK in October 2017
Effia and Esi are two sisters whose fates are separated at birth. One is sold into slavery and brought to a cotton plantation in Mississippi, the other is married off to a slave trader in the Gold Coast of Africa. We follow the two sisters and their respective descenders as they forge completely different paths over the course of seven generations.
Gyasi takes us on an epic journey and takes a deep look to the Atlantic slave trade and its legacy. The parallel comparison of the two branches of the family are chilling and highlight the perpetuation of injustice and inequality in modern America.
Besides presenting a mind-blowing perspective on African American lives today, the prose is dazzling and the usage of metaphors and fast forward moments contribute to the analysis Yaa Gyasi wants to make of today's "post-racial" America.
In the end, this was a very good year for literature, and the new releases expected to happen in the upcoming year leave me to believe that more great books will continue to come out.