Even though Pride Month was in June, I've decided to try compiling some of my recent LGBT Faves and spread some of the love and pride that people (LGBT or not) are putting out there with their LGBT related stuff!
Without further ado, here's that list…
Sappho's Club enamel pin badge
Image: Chloe Smith
The Sappho's Club badge is a genius and lovely way to showcase your Sapphic identity.
Inspired by how lesbian and bisexual women used to give their girlfriends violets as a secret show of affection, which originated in Sappho's poetry, the badge is not only beautiful, but it's a subtle nod to gay history as well as being a way of showing pride in your identity.
The badge itself is breathtaking – the colours really stand out, and there are incredible detail and indentations in the flower.
It's a perfect size – not too small to be appreciated but not too big, either. It can be pinned on anything from bags to lanyards and jackets with it's safety pin catch on the back. It's very well made – secure on whatever I pin it to, and the soft, shiny colours make it really eye-catching. It really needs to be seen to be believed how truly well-made it is, as well as to truly be appreciated.
Shipping was also very fast and the badge also came on a card that explained the lesbian history of the violet and how it was directly inspired by Sappho's poetry, which is a great touch.
So if you're looking for a sweet way to show pride in your Sapphic identity – then this is certainly the badge for you.
In a Heartbeat – Short Film – YouTube
In a Heartbeat is a short and very sweet LGBT film that will demand a re-watch.
After an incredibly successful Kickstarter campaign, the short film that depicts a closeted boy at risk of being outed as his heart literally bursts out of his chest tries to chase down the boy he's crushing on was released on YouTube a few weeks ago.
It's an absolutely adorable film, that not only has a great premise and execution, but the animation is beautiful. Every frame and scene has been so carefully drawn and thought through, so not only is everything so rich and beautiful, but there are subtle things in certain scenes that are packed with meaning, making the film all the more amazing to watch (and rewatch!)
So if you're looking for something to watch that's short, but no less impacting – as well as being gorgeous and having some really sweet LGBT rep, then you've got to sit down and take a few minutes of your life to watch In a Heartbeat! Trust me when I say that you won't regret it, it's miles better than some of the more recent films that have appeared in cinemas!
Harvey Milk Hope shirt, ALLRIOT
ALLRIOT's Harvey Milk shirt is a subtle and stylish nod to LGBT history.
The design is beautiful – the colours aren't too bright but they really pop, especially on the white t-shirt. You're naturally drawn to the soft and eye-catching colours of the rainbow, but you're also drawn to the quote itself, which is both an empowering and inspiring statement, whether you're a member of the LGBT+ community or not. (Can I just say how genius it is that the quote is written in a milk bottle as well? I love it). To be honest I love everything about the shirt design – from the lovely quote itself to the milk bottle, the font, the rainbow and the placement. It's such a beautiful design to wear and it's also pretty subtle so it's great for any LGBT who are currently closeted or who want a very artistic and less obvious way to make a statement and show support for who they are and others in their community.
The shirt itself fits really well, too The size I picked out was true to the sizing chart and is incredibly light and very comfortable to wear. (Honestly, I'd wear it every day if I could). The printing is also great quality – it's not too light on the shirt and it won't wear away anytime soon.
ALLRIOT shipped the shirt incredibly quickly, and the shirt came really well packaged too, which I really appreciated.
So if you're looking for a way to celebrate being part of a community that has such a rich history, then you can't go wrong with this shirt from ALLRIOT.
You EP, Dodie
Image: dodie/iTunes
YouTube star and singer-songwriter Dodie Clark has just released her latest EP – and it's brilliant. While none of the songs on her latest release explicitly deal with LGBT love or issues, Dodie identifies as bisexual so I've decided to include it in the list. 🙂
Dodie is a master of writing lyrics, and even songs with simple melodies like 'Secret For The Mad' end up packing an incredible emotional punch because of this. And I'm being 100% honest when I say that every single song will be stuck in your head for days after you stop listening, because they're also really, really catchy.
From more upbeat songs like 'The Middle' – to emotional, honest songs about experiences of mental health like '6/10', this EP is absolutely flawless, every song is amazing, and together it just creates this lovely EP that'll quickly become a fast favourite.
So if you need new music that'll both make you want to sing along and maybe (probably) cry because of the genuine, heart-felt and emotive lyrics, then 'You' is the EP for you.
Dream Daddy: A Dad Dating Simulator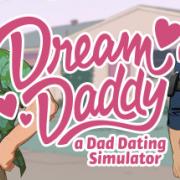 Image: Steam
Dream Daddy is a LGBT dating sim released by the YouTube stars who go by the channel name 'GameGrumps'.
In the game, you play as a single dad who moves to a new town with his daughter. Luckily for him, the cul-de-sac he moves into is full of single, dateable dads. You can choose who you'd like to date every time and each dad has multiple endings, so there's hours upon hours of fun to be had playing.
What I love most about this game is both its customizability and its representation. One of the dads you can date is canonically transgender, for example. And when creating your dad as the main character, you have the option to make them trans, gay or bi/pansexual. It might seem like something really simple but it just shows how the creators really care and go the extra mile to offer a great game experience and LGBT representation.
The stories you can play are really sweet and developed and every character is given so much depth and development as well – for a dating sim, it really does go above and beyond in all aspects and expectations. (No spoilers, but you won't be disappointed! It's devoid of cliche, and you'll love every twist and turn).
It's well worth playing just for the experience, and the art is breathtaking as well – the character design is both brilliant and diverse, and you can tell that so much love and work has been put into everything from the smallest background details to the characters themselves.
So if you're looking for a new game to play that offers both LGBT rep, great stories and hours of playing time, then you should definitely check out Dream Daddy!
So there we have it – these are my recent LGBT favourites! What do you think? Do you have any that I haven't mentioned? Let me know what you think in the comments!