It has been said that if you feel good on the inside then you look good on the outside which is why many of us are hitting the gym to become healthier. But this doesn't mean we can't look stylish whilst working out!
You can workout in whatever you want; a pair of old leggings and a tshirt or the latest big brands such as Nike and Adidas. But, these big brands come hefty price tag. Luckily the highstreet has jumped on the gym bandwagon and have brought out their own workout and sportswear ranges so you can workout and look good on a budget.
H&M
The H&M sportswear range is probably one of my favourites due to the style, fit and material they use. You can get everything from yoga pants to running shorts, as well as some gym accessories such as hairbands, waterbottles and yoga matts. H&M is on the higher end of the highstreet price scale but the quality is superb.
River Island
River Island recently launched their RI Active range, some of their new autumn range is pictured below. Again, this is more in the higher price range for highstreet shops but what I like here is the big-brand quality that comes with a much smaller price tag. The dark colours are flattering but also perfect for working-out as they wont show sweat marks.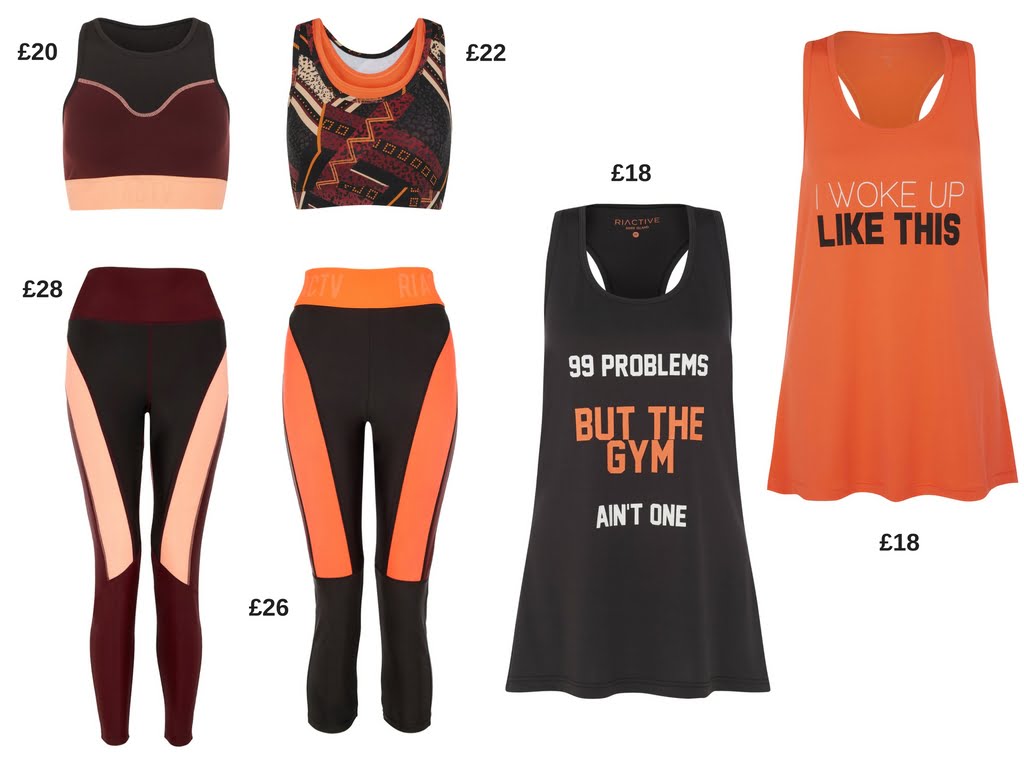 New Look
With a smaller price tag, the New Look activewear range is brillant because it combines fun patterns and styles with the comfort you want when it comes to gym clothes. They have motivational slogan tees and capri pants in varied lengths for people who prefer a cropped legging on a warm day or a longer pair for a winter morning run.
Primark
Although Primark doesn't always have the best reputation for quaity their sportwears range is brilliant. Not only do they offer a range of colours and styles but there is also a variety of top designs so you can pick between loose and tight tops and vest or tshirts. Some reviews have said that after awhile the tight tops lose their elastic and become baggy in places, but at such a small price tag you can't go wrong.