On Wednesday 16th May Gareth Southgate will choose 23 individuals whom he believes can win England the World Cup.
Here are my 5 wildcards that I think should be on the plane to Russia.
Ruben Loftus-Cheek
The 22 year old has had a fantastic, break through season for Crystal Palace (on loan from Chelsea) where he has made 24 league appearances.
He has been with Chelsea since the age of eight but, like many other young players, struggled to make it into the first team at Stamford Bridge, making only 22 league appearances in 3 years. A lot of people recognised Ruben's talent, but when you are at a big club like Chelsea your chances will be very limited. However, his loan spell at Selhust Park has been a huge success, where he has helped Palace to survive relegation. Despite the fact he has only scored two goals and got three assists this season, he has made huge contributions in games, dominating the midfield by breaking up play, and setting up Palace's attack.
The young midfielder has only played twice for England, but he is very liked by Southgate, and gives the national manager a different option in midfield; he is a big presence, very physical, loves driving forward and can pick a pass as well as finish. This is why I think Loftus-Cheek should go to Russia.
Trent Alexander-Arnold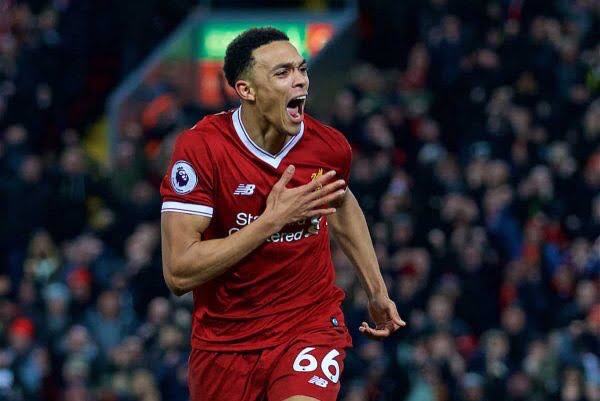 What a season this young man has had. He has gone from strength to strength, consistently improving every game. Whether it's coming up against the likes of Alexis Sanchez, Raheem Sterling or Eden Hazard in the Premier League, he has dominated and silenced them all. How about the greatest competition in Europe; the Champions League? Well he has taken that by storm too showing no fear, and has subsequently helped Liverpool reach their first final in the competition since the 2006/07 season.
The right-back, who was born in Liverpool, has made 34 appearances this season, and has scored and assisted two goals. Alexander-Arnold has even featured in central midfield in recent games so that gives Southgate another versatile option in the middle.
He may not start in Russia, or perhaps even feature, but just the experience of going to a World Cup and training with the team everyday, taking all of that in can only help such a young player and who knows, maybe come the next World Cup he will be ready to start for England.
Fabian Delph
At 28, Delph is by far the oldest wildcard here, but he has impressed massively in Manchester City's dominant title winning season.
Despite picking up a muscle injury which kept him out for a couple of months, Delph established himself in a new left-back role where he featured 22 times in the league, including 14 consecutive starts. Clearly he has taken well to the new position and that must be down to the management; what Pep Guardiola has done to both Delph and Manchester City is incredible. Guardiola has given the make shift left-back a kick start to his career, and now the Bradford born player has a real chance of going to the World Cup. He can give the young team leadership and guidance, using his experience to help the players both on and off the field.
Jonjo Shelvey
You either love him or hate him. Jonjo Shelvey always has the fans divided. For parts of the season he has gone missing, fuelling critics to get on his back, but when he plays a game like he did against Chelsea on the final day, you cannot help but ask the question; is he good enough to play for England? I believe the answer is yes (sort of).
There is no doubt in my mind Shelvey has the ability, and when he is on form, he can dominant any midfield, the key is though can he constantly produce these performances.
The former Liverpool man, now 26, has had an up and down season for Newcastle, but overall can be proud that he has helped his team to a 10th place finish in their first season back in the Premier League. He has however only scored one goal and provided three assists this season, and when you look at those statistics it is understandable to think he is not good enough to go to Russia, but it is his overall play, his almost unique ability to spot a pass. I cannot see this talent in many other English players. Shelvey may only be used in the last 15 minutes of a game when we are chasing a goal and needing to unlock the oppositions defence, but in that scenario, I believe he is the perfect man for the job.
Ryan Sessegnon
What a player this young man is going to be. At just 17, he has had an incredible season for Fulham; scoring 16 goals and providing 7 assists in the Championship. He has helped the Cottagers reach the Play-Off final, overturning a 1-0 deficit against Derby to beat them 2-1 on aggregate. He has won the Championship Player of the Year, the Championship Apprentice of the Year and the Young Player of the Year awards. But it is not just these stats and awards that impress me, it is his movement off the ball, his ability to read the game so well already, and most of all it is the maturity of the full-back turned winger. In his post match interview after the win against Derby, Sessegnon was very level headed, kept his cool and spoke of how the job was not done yet. Clearly all of this success has not gone to his head and that is why I am so impressed with the teenager.
Many people say he is way to young to go to the World Cup or he is just a Championship player, I disagree. The young man is fearless, and I believe a summer in Russia will only improve an already talented individual. Much like Trent Alexander-Arnold he may not feature much, if at all, however it is the experience of a World Cup with your fellow Englishmen, that can help shape Sessegnon. Take him to the World Cup, with the season he is having, he could end up playing a bigger part then any of us could imagine.