Across the fashion capitals of the world, A/W 15/16 shows sported many new runway trends. I would use one word to sum the shows up, and that word would be mayhem. Each designer used their creativity to utilise another new trend, entirely on top of all the current ones. Some of the autumn season looks are ludicrous for everyday wear (such as the bare chests or their barely covered up alternatives), whilst others were beyond amazing (such as the velvet materials and slits as high as your thighs). Yet when it comes to finding a single source that lists all the different looks in one place, I am at a loss. Which is where this article comes in handy; I have combined all of my favourite and most influential trends for this season.
Trend 1 – Fur Stoles

Fur stoles may not have been an expected trend, but they defiantly did appear on the runaway shows. The stoles were draped to one side on nearly all the models sporting them. Jason Wu's designs reminded us of wolf goddesses, whilst Michael Kors fur stoles looked very chic, with the matching knit sweater/skirt set in an all brown hued palette. The 3.1 Philip Lim collection also featured caramel coloured stoles, while Thakoon opted for thicker material and threw in some darker reds.
Trend 2 – Victorian and Edwardian Fashions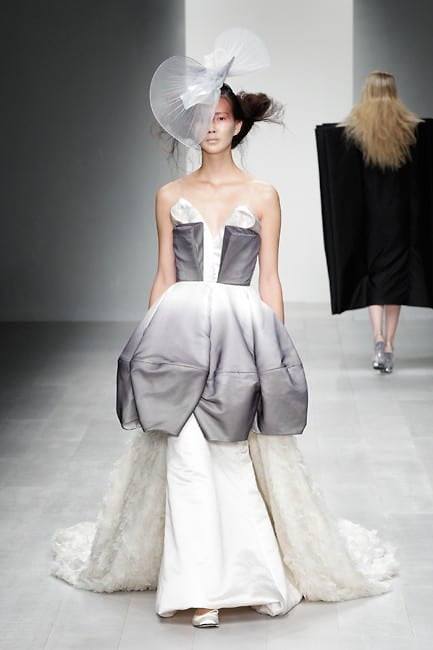 While the Victorian fashion touches were a whole lot more predominant in the spring/summer shows, the Edwardian era designs are in this time around. Clothes were complete with lacy accents, high collars and clinched waists. The dominant styles of the Belle Epoque era came to be very much adored for the coming seasons; from Monique Lhuiller's lacy numbers with midi hems, midnight floral designs and high necks, to the Reem Acra flouncy miniskirts and clinched waist doublets. There was a pretty good feel of the Victorian looks as well with bow tied collars and frilly touched blouses. There was a sense of romance in the air as off-skew bows made their way into man collections. While they showed up in New York and London fashion weeks as well, it was the Italian designers such as Emilio Pucci an Bottega Veneta that fully embraced this look.
Trend 3 – Plunging Necklines
The neckline has constantly been changing throughout the year and we've seen numerous plunging V-necks. They have appeared in everything from blouses to dresses, and sometimes even simple blazers with nothing underneath. The chest is both fully open/fully closed this year and the plunging neckline is one of the most intriguing of trends. It has appeared on nearly every single runway show – from Missoni, Temperley London and Emilio Pucci. This was defiantly one of the biggest trends to hit the runway.
Trend 4 – Ruffles
From Isabel Marant's mini dress to Lanvin's translucent materials, we saw ruffles everywhere. Ruffled culottes mark the Clover Canyon collection while Erdem shows off translucent materials with ruffles around the edges of shoulders and necks of garments.
Trend 5 – Traditional Folk
I noticed that many of the designers brought traditional dress styles to the runway, as well. The designs were taken from an array of cultures, with playful prints, rich embroideries and nostalgic knitwear all around. This includes some of the Burberry dresses that fell to the ankles whilst being accompanied by fringed bags, the Vanessa Bruno minis and Lanvin layers carrying a Moroccan theme. Such pieces were combined with crop tops ands lace-up skirts, found in Ralph Lauren, Chloe and Dsquared2 shows this season.
Trend 6 – Quilting
Expected from Chanel as this trend screams the brand name. However, quilting has become a big thing this season as Fendi, Alexander Wang, Moschino, Hermes and Burberry went for the soft touch. Burberry decided to take a crafty angle, Chanel punctuated the look with jewels and Fendi just made all-enveloping duvet style coats.
Trend 7 – Tweed
Again a trend expected of Chanel. It is a material so perfectly suited to the fashion house and so it was nice to see tweed appear elsewhere as well. This includes tweed within the Simone Rocha, Sacai, Max Mara, Dior and Prada collections. It certainly seemed to have become one of the A/W 2015 fabrics of choice.
Trend 8 – Keyhole Dresses
Where dresses did not have plunging V-necklines, turtlenecks or just plain round necks, they were given some of the loveliest trending slits on the runway; appearing as keyholes small and large in the center of the chest. Their appearance on the Sonia Rykiel collection was simply breathtaking in contrast to the slits turning into huge holes within the Calvin Klein show.
What do you think of the 2015/16 Autumn/Winter collections? Let us know in the comments below!