This week saw Alan Pardew lead his Newcastle United into the quarter-final of the league cup, beating last-year's winners and League champions Manchester City 2-0.
It was a brilliant performance by a team that many before kick-off thought would struggle to keep City from scoring four or five. The fans were wrong – I was wrong. Upon reading the team sheet, I was angry that Alan Pardew had fielded what I and many others saw as a weak side.
Credit where credit is due – that team of youngsters played with passion and heart and put their bodies on the line right to the end: Alan Pardew got the best out of them.
That win now means Newcastle United are unbeaten in their last four league and cup games: they've gone through October unbeaten and with back to back league wins. It's a been a good month for Alan Pardew, who at the beginning of it must have wondered if he'd still be in charge of the Magpies.
This week sports journalist Patrick Barclay wrote in the Evening Standard that Newcastle United fans should apologise to Alan Pardew for calling for his head? Does he deserve an apology? The 2014 statistics suggest otherwise.
Alan Pardew may have guided his team to back to back wins but he did so for the first time in seven months, it was also the first away victory in the same amount of time. It was only his second victory of the current season and only his 7th league victory of 2014.
The stats go on: In the last 28 games Pardew's side have scored only 24 goals, kept six clean sheets and failed to score in 16 games. It's simply not good enough.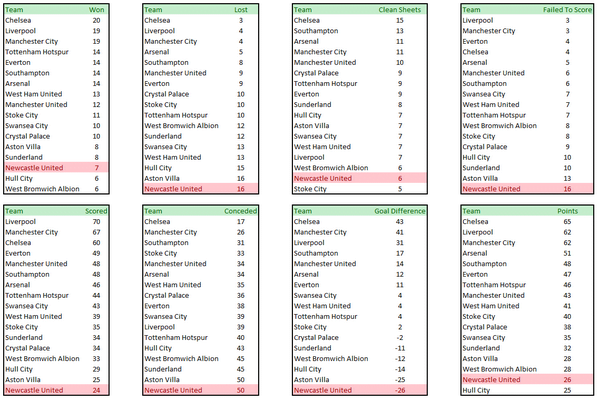 The performance against Leicester City was average, the victory against Spurs was good and beating Manchester City was excellent – there are indeed signs of improvement for Alan Pardew.
But three wins on the bounce does not exonerate Pardew for the past 18 months of dire football on Tyneside, it does not excuse his poor tactics and even poorer excuses. That will only come if he continues to work wonders on the pitch.
Let's not forget that Alan Pardew had a fantastic month last season, collecting the Manager of the Month award for November but then went onto win only 8 of the final 25 games, losing 15.
The reason? You can blame the sale of Yohan Cabaye and the lack of investment in the January transfer window but you can also point to Alan Pardew's complacency – that manager of the month award went to his head and his luck ran out.
Many still belief that Alan Pardew is poor manager and inept tactician and it will take more than a three or four good performances to turn that opinion around because after all Newcastle United have been here before.
However, it remains our firm conviction that Pardew is not the man to take this club forward; for reasons well documented on our website.

— Sack Pardew (@SackPardew) October 29, 2014
But his critics are finding him tolerable and giving him the credit he deserves but it is far too soon to be calling for them, I, to be apologising to Pardew. The last 18 months have left a bitter taste in the mouth and the expectation that things will inevitably go astray once again.
His supporters during 2014 constantly reminded his critics that 'Pardew finished 5th' – using the past as a stick to beat his critics with. Now those same supporters are using the present to remind us how great he is. Just as they did, his critics won't forget the past in a hurry and nor should they.
The month of October has begun to repair to the bridges but it's a long road to forgiveness and as the 10th game of the season approaches, the game Alan Pardew asked us all to judge him on, the jury remains well and truly out on Mr Pardew.