Throughout history, female fashion designers have revolutionised the way women dress. They have broken the mould of the female silhouette, stunning everyone with their fresh, new perspectives and an eye for craftsmanship. There are many genius creators in the world, but here is a look at small selection of the best.
Coco Chanel
A list of revolutionary females in the fashion world wouldn't be complete without Coco Chanel.
Her work is still as relevant today as it was in the 1920's, and the fashion house remains one of the most classic and respected of all time. Women of today have Chanel to thank for coveting the "Little Black Dress"; a staple of almost every modern woman's wardrobe. In 1926, Vogue labelled her sketch of a calf-length sheath as a "frock that all the world would wear"- and weren't they just spot on?
What was arguably most revolutionary about Chanel was her ability to borrow from menswear and make it utterly chic and feminine. During a time of change due to World War 1 she was the first female designer to use jersey material, which was originally only used in men's underwear. This material was practical, comfortable and simple; something which was alien to female fashion of the time.
She freed women from their constricting corsets and convinced the world that ability to move in clothes was fashionable- particularly if it was in her unstructured Chanel. She also borrowed from the males dress up box to create her iconic Chanel suits. The collarless woollen jacket and slimline skirt was the epitome of a post-war woman who was trying to fight for work in a male-dominated world.
Not only were Coco Chanel's intentional stylings influential, but so were her accidental trend setters. For instance, she wore trousers purely out of modesty but played a huge part is making them popular, whilst her accidental sunburn led to the lusting after a tan; previously seen as evidence of being "lower" class.
Jeanne Lanvin
French born Jeanne Lanvin is one of the earliest entrepreneurs in female fashion and opened her millinery house in 1889.
Trained as a dressmaker she began creating gorgeous dresses for her sister and daughter, her designs so exquisite that mothers started to hire her to make copies for their daughters. Her mother/daughter ensembles became so popular that by the 1920's her line was ahead of its time; extending into sportswear, furs, home décor lingerie, menswear, swimwear and fragrance.
Jeanne was so influential because of her fine craftsmanship; her eye for youthfulness and beauty as she selected the most exquisite fabrics for her dresses. She revolutionised the use of colour, using pastels and bolds to bring her designs to life, even creating a household name of "Lanvin blue".
Image: MCAD Library – Flickr
Elsa Schiparelli
This Italian fashion designer became famous for her revolution in the world of experimental avant-garde fashion.
She is responsible for the popularity of "shocking" pink (her signature shade) and collaborated with artist Salvador Dali to produce unique dresses adorned with surreal designs. She was a predecessor to the idea that art and fashion can co-exist, and her eye for beauty in the ugly, such as her lobster dress or bug necklace, is reflected into designers across the world today. Many of her designs and her personal style was ahead of her time, evidence of a woman who transcended time in the fashion world.
She designed an accessory which looked like a vintage phone, was the first to use zippers as a visible statement and Nars even now have a shocking pink lipstick named "Schiap" in her honour.
Madeleine Vionnet
Launching her fashion house in 1912 Vionnet was known as the "architect among dressmakers" and praised for her structural designs.
She changed fashion forever when she mimicked greek designs in her draped, flowing dresses and the remints of this can still be seen in fashion studies today.
Image: "The Coincidental Dandy" – Flickr
Mary Quant
A designer who represented the liberation of women's fashion, Mary Quant pioneered the mod movement.
She is known for creating the miniskirt, a style innovation born in the 60s when Quant realised she couldn't dance in below the knee skirts and dresses. This move was rebellious at a time when even Chanel stated that the knees should never be on show, but the miniskirt soared in popularity and played a big part in changing how women approached fashion. Her short printed shift dresses in vibrant colours defined the fun of the 60s era.
Image: WikimediaCommons
Sonia Rykiel
Sonia Rykiel earned the title "Queen of the knits" due to her creation of super soft dresses and sweaters, most notably "The Poor Boy Sweater", an idea which simply came to her during pregnancy when she wanted clothing to enhance her new shape, not hide it or be ill-fitting.
This fashion rebel, who famously never trained as a designer or was interested in fashion originally, was the first to reinvent knitwear as something feminine and fitting- to show the stitching of a sweater.
In 1963, Elle Magazine featured singer Françoise Hardy on their cover, dressed in a striped Rykiel jumper.
Didier Grumbach, chairman of "Fédération Française de la Couture" told The Guardian that "Back then, women's magazines and fashion journals only put haute couture on their covers."
Her simple jumper featuring on high-fashion magazines was a sensation.
Vivienne Westwood
Westwood is still as well known today as she was when she first started out.
We thank her now for bringing punk fashion into the high-fashion foreground in the 70s, when that style of dressing was restricted to men. She opened SEX in her early days, a store which borrowed from sadism fetish fashion and stocked leather, chains and studs. Today, plaid trousers, safety pins and platforms are exquisitely owned by the flame-haired activist's label. This designer is also revolutionary in her personal life, using fashion to advocate for climate change.
Image: "The Coincidental Dandy" – Flickr
Miuccia Prada
Mario Prada's youngest granddaughter, Miuccaria Prada took over the powerhouse in 1978 and her imprint on it will remain apparent for many years to come. Her haphazard pieces are almost thrown together as she continues to defy convention. Her designs are breath-taking, original and her nylon bags are evidence of her disregard for notions of luxury. She has never been afraid of making a statement and in her Autumn/Winter 2016 collection she used her clothes to send a message about migration and war.
Betsey Johnson
Betsey Johnson's exuberant and outrageous designs defined New York street style in the 70s.
There's no aesthetic quite like that of Betsey's over-the-top embellished dresses. The revolutionary behind a merger of pop punk and girly styling became a favourite of style icons like Edie Sedgwick and we have her to thank for the infamous end of runway cartwheel.
Stella Mccartney
This woman is revolutionary not only for the wearable yet elegant clothing which built her highly successful label, Stella Mccartney has made great contributions to ethical fashion. She has only ever used vegan fur and leather in her pieces since she opened the label in 2001 and has been a pioneer for vegetarianism.
On Fashion Revolution Day, which is held on the anniversary of 2013 Rana Plaza tragedy in Bangleadesh, she wore her clothes insides out in a bid to raise awareness of where our clothes come from. A high profile designer who is so ethically-conscious is a role model for fashion in the Western world where fast fashion is a growing epidemic.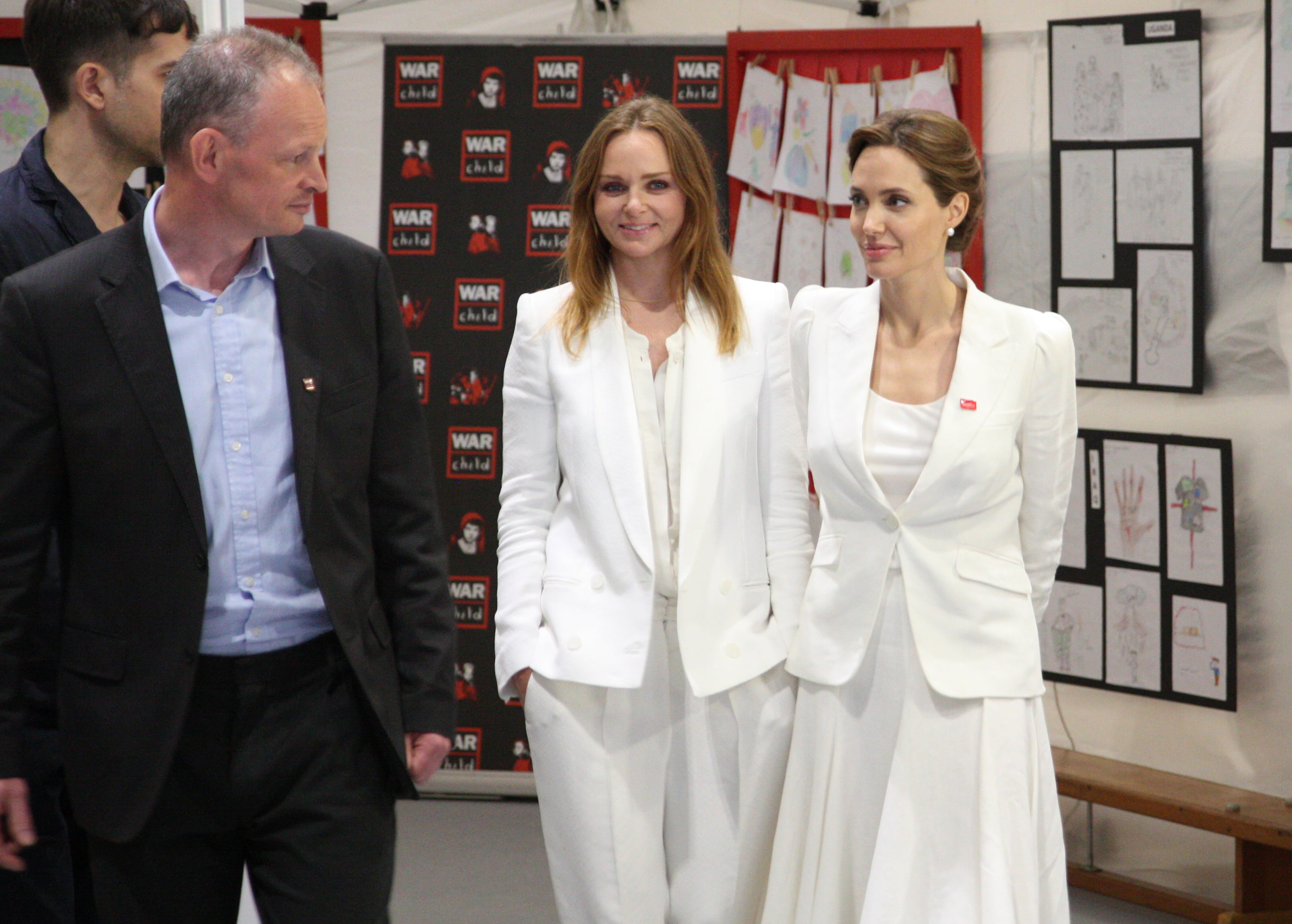 Image: WikimediaCommons – Stella Mccartney (middle) with Angelina Jolie (right)
Who's your favourite female designer? Let us know in the comments below or on Twitter @KettleMag!