I have a slightly dangerous tendency to be fairly reckless in my makeup purchases – if I hear just one good review of a product, I'll be tempted to buy it. This leaves me with some not-so-great items, but it also means I've been lucky enough to come across some brilliant ones. I'm just a perpetual product tester, basically.
Here are my favourite picks that are staying firmly in my makeup bag for 2017. There are both high-end and drugstore products – and even better, they're all cruelty-free!
NARS All Day Weightless Luminous Foundation
As a person with oily, sensitive skin that's prone to acne with just the slightest disturbance, finding a foundation that suits me and works well with my skin type is a challenge. However, this formula from NARS is the best. This is a medium coverage foundation with a wide range of shades for all skin tones – I use 'Mont Blanc', which is the second palest. It doesn't cause any adverse reactions and it looks so natural and weightless – just like it says on the tin. I bought this on a whim as the first NARS product I ever tried, and by pure luck, it's the perfect foundation for me. However, I've never heard a bad review of it, so chances are, it'll be great for you too.
Buy it here.
Too Faced 'Better Than Sex' Mascara
I've tried lots of mascaras over the years, from drugstore brands like Maybelline and Rimmel to higher-end products like Charlotte Tilbury and MAC. Of all of them, Too Faced's 'Better Than Sex' mascara is undoubtedly the best. From the dreamy metallic pink packaging to the actual formula itself, it works wonders for even the shortest of eyelashes. A word of warning though – don't buy the waterproof version (it comes in a blue-green metallic tube instead), as it's a nightmare to remove and just looks clumpy.
Buy it here.
Collection 2000 Lasting Perfection Concealer
I recently bought this as a cheap alternative to Urban Decay's Naked Skin concealer, which is decent, but not quite good enough for the £17.50 price tag that comes with it. This Collection 2000 concealer does the job just as well as Urban Decay does. My only issue with this product is that the shade range is so limited – only three shades are available. However, it's a great concealer for only £3.99 if you can find a shade to suit your skin.
Buy it here.
Anastasia Beverly Hills 'Modern Renaissance' Palette
I bought this on a whim in Sephora when I visited America last year, knowing that the retail price for it was so much lower over there than over here, unfairly. This was one of my best impulse buys ever – it quickly became my favourite eyeshadow palette ever. It's a neutral palette with a difference, offering simple nude shades such as 'Warm Taupe' with red and pink shades like 'Love Letter' and 'Red Ochre' within a mix of matte and shimmer shadows. It's a little pricey for a palette – but not really any different to the price of the much less pigmented Urban Decay Naked palettes – but it's worth every penny. I use it almost everyday, as its shade diversity allows me to create understated daytime looks and more dramatic combinations of shades for nights out. The shadows are almost creamy in texture and blend easily, and the shades are so gorgeous and pigmented that I can guarantee you'll fall in love with it immediately.
Buy it here.
NYX Roll On Eye Shimmer
It's been just over a year since NYX finally hit the UK and sent everyone into a frenzy over its easily affordable products. I find that NYX can be hit and miss – some of the products can be amazing, but some can be disappointing. Their Roll On Eye Shimmer, however, is definitely one of the amazing products. A quick roll of this stick across your eyelid will cover it in glitter, and who doesn't want amazingly glittery eyes? It comes in a range of shades, from pale colours to deep black shimmer, so you'll definitely be able to find a colour to suit you.
Buy it here.
Makeup Revolution Vivid Baked Highlighter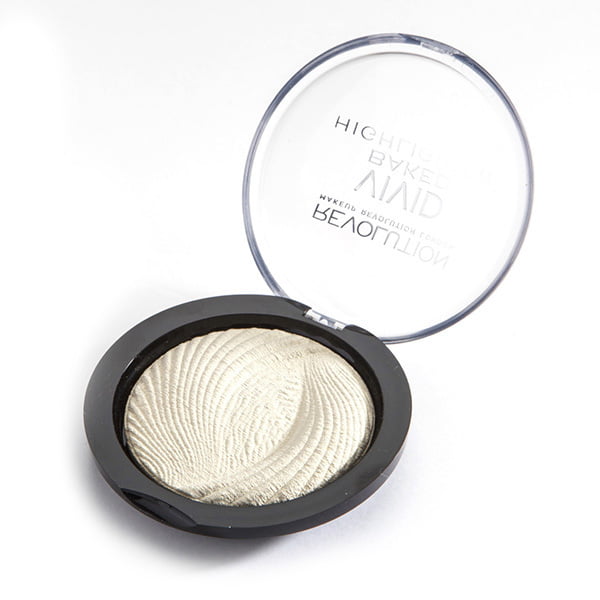 I love highlighters. This fact, of course, means I've tried a lot of them. The most highly pigmented one of them all is this one from Makeup Revolution, a very affordable brand you can easily find in Superdrug. The Vivid Baked highlighters come in three shades – white, light pink and lilac. I have both the white and light pink ones – the former gives a bright, blinding glow, and the latter provides subtle illumination for a more chilled out look. Coming in at only £3 each, they're just as good as some higher end highlighters like the much-coveted Glow Kits from Anastasia Beverly Hills.
Buy it here.
Beautyblender
For a while, I just believed that the Beautyblender sponge was just a hyped up, extravagant makeup sponge. It's not. The first time I used one of these sponges I was converted. I noticed an immediate change in how easily my foundation blended, giving a smoother, more natural look. It's not often I say this, but I would consider this little pink elliptical sponge to be one of the best beauty products I've ever bought. £16 for a sponge seems incredibly overpriced for a makeup sponge, but a Beautyblender doesn't need regular replacement like other makeup sponges do, so the cost balances out in the long run. Plus, it will change your foundation game – trust me.
Buy it here.
There we have it – the seven items that are staying firmly put in my make-up bag in 2017! Why not give some of these products a go yourself?