In the midst of New York and London Fashion Week's, the fashion lovers among us are being bombarded with new trends, old favourites, risk takers and, in every case, beautiful clothes.
And we love it.
Beneath all the noise, however, there is one mainstay attraction from some of these designers.
They are breaking the barriers and surging forward to a new era of experimental fashion.
Fashion is at its core an energetic, creative and wonderful craft, and you can reference Vogue editor Alexandra Shulman for that fact.
Now designers are taking that core and expanding it, exploding it into the very textures, shapes and designs of their clothes, to create some things we haven't seen before, which is what fashion often struggles with.
Whilst some, such as Rag & Bone, are breaking the mould by finally capturing the essence of a new urban generation, others are utilising new textures and others the quest for diversity.
As always, there are such talented designers who have all done their best to present some gorgeous clothing which wows the audience and spreads the brand of their name further.
For instance, Mary-Kate and Ashley Olsen threw away the embellishments and produced some frankly beautiful minimalist clothing for their brand The Row. Ankle length trench coats, in delicate lemon silk and coffee brown leather, stole the show for me and have now imprinted a flurry of nude palette macs in my mind.
Show Stealer
Favourites Calvin Klein and Vera Wang showcased classic looks, and Ralph Lauren presented luxurious liquid gold skirts and burgundy low drop necklines whilst Marc Jacobs stole the show. He stunned everyone as a heavily made-up model wearing crocheted doily necklines reminiscent of your grandmother's dining table, jet black foot high platforms that would cause quite a stir if you wore them in the supermarket and a full billowing laced skirt topped with an inoffensive embellished sweater marched onto the runway.
The looks were layers upon layers of clothes, in a mute clash of prints and a moody palette, the overbearing theme, seemingly a clash of Beetlejuice and varsity jocks.
Whilst parts of this collection brought back memories of previous years, the motif was fresh and new. Gothic styling is something I haven't seen grace the catwalks for a while.
Especially merged with laser cut flowers into a patent leather ballgown, lilac editions for these crazy boots and an oversized pink jumper.
Not to mention Lady Gaga donning a pussy bow and fur arm rings and breaking the internet.
Photos taken from their Women's A/W16 lookbook, which you can view here.
Gypsy Sport's skin tones
Experimental fashion is no longer just about the clothes. It's about who wears them on the catwalk, and it's about racial, gender and body-positive inclusivism.
The master of street-chic and owner of Gypsy Sport, Uribe, has used New York Fashion Week as a platform for racial experimentation, making his the most forward thinking of them all. He used a patchwork print consisting of a collection of honey, beige, caramel and ebony shades. Women were draped in soft, delicate negligee, contrasted with fur, leather and suede outwear in shades of nude, to show how the idea of skin can be layered.
Most prominent in his show was his selection of pan-ethic, body-positive, gender queer and altogether inclusive runway cast, which showed Uribe to understand what the current population crave; diversity.
Model Diandra Forrest even closed the show whilst holding her newborn baby, something which is so human and natural yet so alien on the catwalk.
Chromat's light play
Becca McCharen's eye for futuristic fashion wowed in the big apple.She acts as a barometer for the changing season in fashion and it's diverse future which strays from the "regular" model choices for something much more inclusive, namely plus-sized and racially diverse. Now, her Autumn Winter 16 collection looks at 'colour theory and light explorations'.
The result? Laser cut dresses with neon trims that look like beams of like and electric pops of colour.
Photos are taken from their A/W16 lookbook. Reorder items here: http://chromat.co/pages/lookbook
Rodarte and their flowers
Now, we have to talk about Rodarte. The Mulleavys' transported everyone to a dreamy, flower covered aesthetic where wedding gowns were reinvented and shot through with moth wings and moth eaten holes.
Thom Browne's flying ties
When I reference this era of experimental fashion I am inspired by clothes which make me stop and think along the lines of what and why. Thom Browne did that. These clothes were constructed, not draped, and ties were pinned to models heads or at either side of their ears, to give the impression of a removal of gravity. His collection was inspired the late 20s era of 14th street in New York, but the shapes he created were nothing but futuristic. Model held dog shaped bags, blazers hung at different length on either side of the same jacket and a coat was transformed into a dress.
Hood By Air's luggage
Shayne Oliver's return to New York was as dramatic as you might expect, bringing with him luggage wrap and luggage tags, to break the definition of what we can actually wear.
As someone who had recently returned from Italy, the idea of travel was apparent throughout, and the inclusion of Russian artist Slava Mogutin, who faced LGBT discrimination in his home country and so fled to the US for asylum, bounding down the runway in a trailing red and black vinyl puffer coat, the current refugee crisis was hinted at. Political undertones embody a new era of fashion.
Men strutted down the runway in heels.Ferocity and power were the key themes for this collection, which sits outside of the boundary of consumer demand.
Just take a look at the featured image on their site.
For more images from his cleverly bizarre collection have a look here.
Now, both Eckhaus Latta and Jeremy Scott showcased collection which were built on strongly defined brand narratives but the narratives themselves have remained ahead of the every lasting quest to be new and exciting.
Eckhaus Latta breaking the mould
Eckhaus Latta, created by Mike Eckhaus and Zoe Latta, has been around for a while, with their Autumn/Winter16 collection being their fifth walk on the New York schedule. Despite this, their brand is revolutionary and fresh, something ready to break through the commercial mould of New York's fashion. Gender neutrality sets the tone of their clothes and their models were chosen from across the expanse of ages colour and size.
They experimented with the ideas of masculinity and feminity with clothes that screamed intensity despite their pastel pink hue.
A studded velvet blazer hung on a male model as if it were a swirling brush-stroke whilst a baby doll pink fluffy coat hung from a models arms, an oversized jumper was draped like a poncho and a crushed gold velvet bib top was in itself an abstract piece.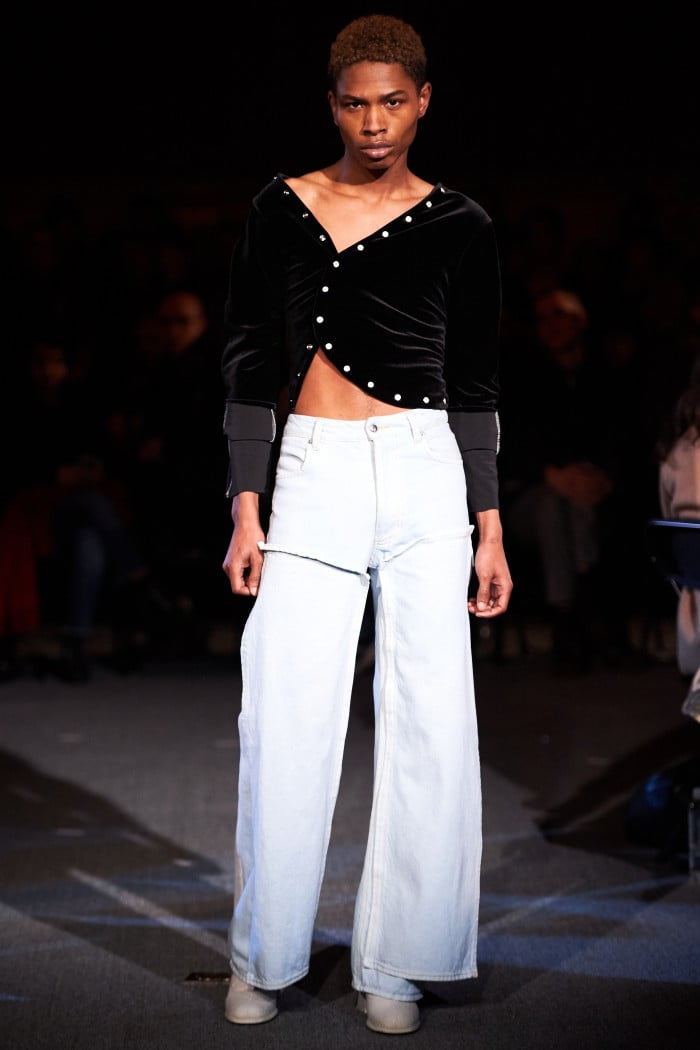 Photo's taken from their A/W online collection, which you can view here.
Jeremy Scott's cowboy fun
Jeremy Scott is renowned for his fun and vibrant clothes. This time, his pop art prints and candy box colours were set against a backdrop of cowboy's and a musical theme. He even self-subbed the collection as #cowboysandpoodles. Where else on the runway will you see a cow print two piece, a tinsel covered coat or baby blue leather printed with musical notes and an animal singing duo?